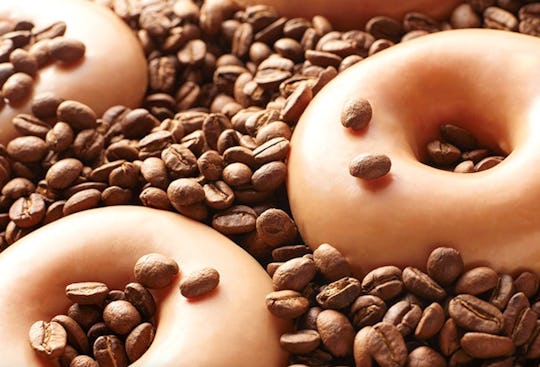 Courtesy Of Krispy Kreme
Krispy Kreme Is Giving Out Free Coffee & Doughnuts On Nat'l Coffee Day This Sat
Fresh doughnuts are already an amazing treat, but one popular retailer is about to take these sweets to another level. In honor of National Coffee Day, Krispy Kreme Doughnuts is selling new Coffee Glazed Doughnuts and Original Glazed™ Coffee for the week of September 24. It's a delicious crossover event for fans of all things sweet.
Starting today, Krispy Kreme is introducing two new flavors to its menu. For this week only, the retailer is selling doughnuts with a special coffee glaze, which sounds like perfection in the form of fried dough. But this isn't the only good news for coffee fans.
Released this week, Original Glazed™ Coffee will be added to Krispy Kreme's permanent menu. That's right, doughnut-flavored coffee is a thing now. It's branded as a doughnut in a cup, which sounds delightful and delicious. And on National Coffee Day this Saturday, September 29, any customer can get a free Krispy Kreme coffee of any size. No purchase necessary. Just walk in the store and get a coffee. Plus, Krispy Kreme Rewards members even get a free doughnut along with their free coffee this Saturday. Really, Krispy Kreme is celebrating National Coffee Day in a big way. It's a weeklong celebration of all things java related.
To get ready for this coffee-filled week, first find your closest participating Krispy Kreme. And if you want to get in on that free doughnut action this Saturday, sign up for the Krispy Kreme Rewards program online or via the Krispy Kreme app. Now you're all set for this big holiday weekend.
As you might expect, the people at Krispy Kreme are pretty excited about this offering. "Our coffee is going doughnuts, and our doughnuts are going coffee! It is a delicious, innovative approach to our iconic products," said Alison Holder, Vice President of U.S. Marketing for Krispy Kreme Doughnuts. "Because this is such a unique taste experience, and one we think coffee fans especially are going to love, we're offering the Coffee Glazed Doughnut all week long in celebration of National Coffee Day and introducing the Original Glazed™ Coffee as a permanent menu item." Both the doughnut-flavored coffee and coffee-flavored doughnuts are sure to gain lots of fans in the coming days.
Even though the coffee celebration just began, people all over social media are already hyping the week. Mentions and images of the new doughnuts abound, and it looks like your feed will be plastered with delicious doughnut and coffee pics for the next few days. PSL? I don't even know her. It's all about the doughnut in a cup these days.
Founded in 1937, Krispy Kreme has been selling its signature Original Glazed doughnut for generations. Now a global retailer, the company sells sweet treats at nearly 1,400 retail locations in 32 countries. Fans the world over know that these doughnuts are a tasty breakfast or anytime snack, especially when that Hot Now doughnut sign is lit up. Treat yourself to a tasty coffee treat this week in honor of National Coffee Day.