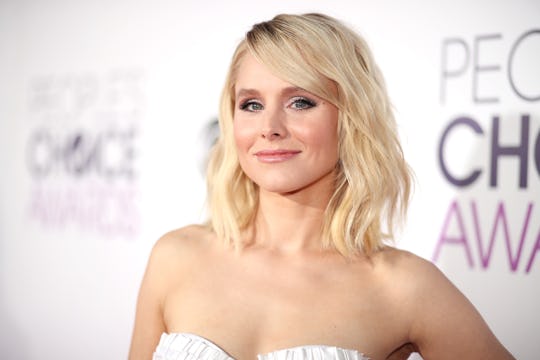 Christopher Polk/Getty Images Entertainment/Getty Images
Kristen Bell's Advice To Chris Pratt & Anna Faris' Fans Is Gold
It might seem oddly specific, but for fans who are still upset about Anna Faris and Chris Pratt's breakup, Kristen Bell's advice offers a comforting perspective. Those who aren't as invested in celebrity couples can still benefit, too, because Bell's words can really be applied to any type of loss. Just think of her as your new life coach.
The actress was attending a charity event aimed at increasing access to fresh, affordable produce when E! News asked her about the recently-split Hollywood couple, who appeared alongside Bell in 2013's Movie 43. "I think there's a little bit of lack of acknowledgment about really loving something that was," she pointed out. "If there are two people that decide not to be together, it shouldn't really be a heartbreak for everyone. "You should say, 'Oh, they tried. But that doesn't discount the lovely years they had together.'" In other words (specifically, Alfred, Lord Tennyson's), "'Tis better to have loved and lost than never to have loved at all." Pratt and Faris had eight presumably happy years, and an adorable son to show for it. The pair echoed that sentiment in a joint statement they shared on their social media accounts Sunday night.
According to TMZ, the reason Faris and Pratt broke up isn't that either of them did anything wrong; they just want different things. Faris prefers to stick close to home and wants to have more children, the site claimed, but that kind of lifestyle just isn't compatible with Pratt's career, which has him juggling starring roles in both the Jurassic World and Guardians of the Galaxy movie franchises. In 2011, Faris told Marie Claire that her first marriage was "destroyed" by her career, explaining, "The divide became too great." Now, it looks like she's on the end of the spectrum.
Bell also acknowledged the challenges of balancing marriage and fame, telling E! News, "The reality is when you're working in this industry you're sometimes shooting a movie in China for four months. You're away from your family for four months. I think it's more the separation than anything that can weigh on people. The truth is, it's really hard." She also reiterated, as she told Good Housekeeping in 2015, that she and her husband, Dax Shepard, attend couple's therapy in order to keep their relationship solid. However, she concluded, "If I ever get divorced, I'm still going to be like, 'Wow, I loved being married to that man.'" The takeaway: "We may have to make different choices; those choices might make us sad for a while, but ultimately you have to make hard choices in life. I don't fault anyone for making them." As disappointing as it might be for fans, divorce was the right choice for Faris and Pratt, and things can only get better from here.