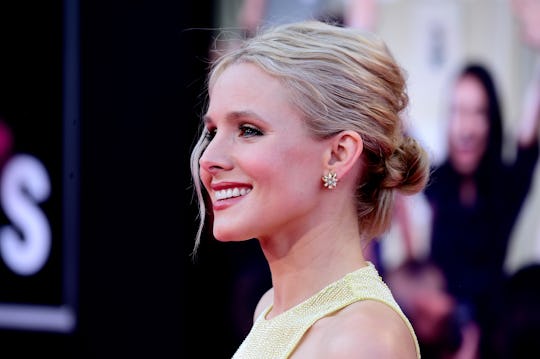 Frazer Harrison/Getty Images Entertainment/Getty Images
Kristen Bell Admits To Fake Sleeping Once When Her Kid Woke Up & Deserves A High Five
Kristen Bell is one mom everyone can relate to. Sure, Bell is wildly talented, gorgeous, and whip smart funny, and she's married to the adorable Dax Shepard. But all the Hollywood glamour and success doesn't seem to ever stop Bell from keeping it 100 percent real with her fans. Recently, Bell, along with her Bad Moms co-star Christina Applegate, confessed about how far they've been willing to go in their most tired mom moments to catch a couple extra hours of sleep. Kristen Bell admitted to fake sleeping once when her kid woke up, giving every mother hope that they're not alone in their fleeting moments of terrible parenting.
Bell is the proud mama of two daughters, Lincoln, 3, and Delta, 19 months old, and a recent stay in a hotel had the entire family taking desperate measures to stay in bed just a little longer than their baby would have liked.
"[The baby] woke up at 6 in the morning and my husband, the toddler and I all pretended to be asleep for probably 30 or 40 minutes," Bell told People. "And finally, I hear the baby reaching towards my purse and going, 'Mama, mama … bar, please, please. Bar.' I got up, handed her the Greens Bar — it's a healthy bar she can eat — I opened it up, gave it to her in the crib and went back to bed. And we all woke up around 8."
Girl, is there a mom who hasn't been there? But when Bell talks about her approach to parenting, it's not all just for laughs.
Bell has been an outspoken advocate for vaccinating kids. Last year she wrote a detailed and passionate essay about her own decision to vaccinate her kids and why she thinks all of the anti-vaccination arguments aren't based in facts. She summed it up like this:
As to the benefits of vaccinations, it has been proven; they work. That's enough for me to climb up on a soap box, make some ugly cardboard sign in my garage, and let other mothers know that it's safe, important, and bigger than emotion: It's the truth.
Bell has also been vocal and outspoken against photographers taking pictures of her, and other celebrity kids along with her husband and their "No Kids" campaign. Here's what Bell told the Huffington Post in 2014 about her tabloid crusade.
I've heard from a couple different people who certainly get stalked much more significantly than we do that it's quite literally changed their day to day lives with their kids. I'm a firm believer that all we have is our collective consciousness. Moms especially, but parents and informed consumers just decided it was a line that shouldn't be crossed. We've started to see the results and I'm very grateful for it. I think it makes for a more positive media monster.
So yes, Bell is hilarious and doesn't mind showing the public her less camera-ready mom moments, but make no mistake, she's also a fierce ally and advocate for moms and kids everywhere. Just one more of the many things to love about this talented lady.