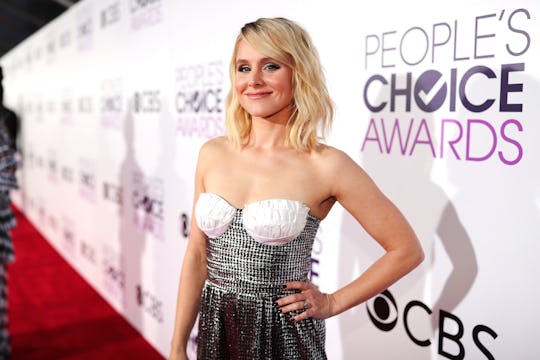 Christopher Polk/Getty Images Entertainment/Getty Images
Kristen Bell Breastfeeding Quotes Are Cool AF
Actress Kristen Bell is already famous for her adorable adoration of sloths (and I guess, you know, her acting skills) — but really, the CHiPS actress should also be recognized for her absolutely hilarious quotes. In fact, Kristen Bell's breastfeeding quotes deserve their very own moment, because the mother of two hasn't held anything back when talking to the media.
The 36-year-old actress and her husband, actor Dax Shepard, have two young daughters: 3-year-old Lincoln and 2-year-old Delta. The couple, who have been married since their quiet civil ceremony in October 2013, have been super open about the ups and downs of both marriage and raising toddlers.
When talking about either, Bell thinks honesty is key. "When you present an unrealistic idea of perfection to people, it's not fair," she told Redbook last year, according to Entertainment Tonight. "In the age of social media, when you can edit your life in beautiful pictures, it's important to remind moms that all of us are wearing yogurt and all of our hands smell like urine."
Bell's all about sharing when it comes to more specific details about motherhood, too. Here are a few of her best breastfeeding quotes:
She Stopped Breastfeeding For 24 Hours For One Particular Reason
For her role as a trophy wife in Shepard's CHiPS, Bell decided to stop breastfeeding for a day in order to achieve an "aggressive boob job" look. "When you don't pump when you're breastfeeding, your boobs go out and then they go up," she explained to Access Hollywood. "And I just handled that skin-splitting feeling to shoot this movie, and the kids were hungry, and I said, 'Daddy's got to make a movie. Everybody's going to need to deal with it.'"
According to The Huffington Post, Bell later told The Ellen Degeneres Show: "This was my version of Christian Bale losing 125 pounds or something."
Women Are Superheroes
When it comes to breastfeeding in public, Bell is all for it. As she told Babble last year:
Women should own the fact that we are superheroes for the first however many months of your child's life. It is your opportunity and your duty to feed your baby should you choose to breastfeed and be proud of it. I'm not saying you need to shove your boobs in everybody's face, but there are tons of cover cloths. Breastfeed your baby with pride. If somebody is uncomfortable, that's their problem. If someone sees an inch of your boob or areola and they can't control their disgust or shock or sexual desire that's on them.
On The Places Where Women Should Breastfeed
"You know the place [where moms should breastfeed]?" Bell told Babble. "It's called Earth. Planet Earth. That's the place they should be allowed to breastfeed."
On Her New Beauty Routine
Backstage at the CMT Awards in 2013, Bell tweeted out a picture of a breast pump along with the caption: "My new backstage beauty routine."
On Loving Her Breastfeeding Boobs
"I still have my breastfeeding boobs, which I was really excited about," Bell told moms at an American Express' Epic EveryDay Getaway she hosted in 2014, according to SheKnows. She said:
They get like monster, and they're up high. It's what I imagine having breast implants would be like, but you get them for about a year. It's dope.
On Nursing Bras
"There's a funny stigma about nursing bras, and anyone who has had a baby can relate to not wanting to give them up, because they are so comfortable and it reminds you of having had your child," Bell told Bustle last year. But she admitted that there are a few downsides to nursing bras eventually, saying, "Usually by the time you're done with them they've been stretched in so many directions, it doesn't give you an appealing shape."
People can always count on Bell to keep it real, whether it comes to the truth about nursing bras or the incredible boob-growing powers of breastfeeding. Hopefully we'll get the same honesty and humor from her throughout all of her kids' stages of growing up!