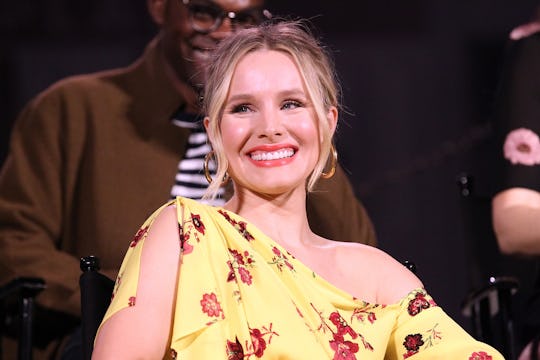 Leon Bennett/Getty Images Entertainment/Getty Images
Kristen Bell Scolded A Paparazzo At Her Daughters' School In A Brilliant Way
Some days, I think celebrity parents must have it made. They can hire nannies and household staff to help manage the kid-induced chaos and never-ending laundry and chores, when they're stressed, they can take luxury vacations to unwind, and if they're in need of a date night, they can get dolled up by professional glam squads and attend a red carpet event. But one aspect of celeb parenting I wouldn't want to deal with? The constant invasions of my children's privacy. During preschool pickup recently, Kristen Bell confronted a paparazzo at her daughters' school who'd been waiting in a nearby parking lot with a telephoto lens —presumably to take photos of her girls and sell them to the highest bidder. And though Bell was able to handle to situation with poise and confidence, the story is evidence that for all the glamorous aspects of celeb parenting, there are some seriously scary downsides.
Bell shared the alarming story with TODAY's Natalie Morales, who interviewed the actress at the Mom 2.0 summit in Pasadena, California. Bell told Morales that, in addition to being a privacy issue, the photographer's presence at her children's school could also become really dangerous: those photos, after all, would let the world know where Bell's two young daughters, 5-year-old Lincoln, and 3-year-old Delta, go to school each day, potentially putting their safety at risk.
Bell explained that she knew she had to step in and do something, so as unsettling as it surely was to have to confront the photographer, she decided to drive over to the parking lot where he was, block him in with her car, and speak to him, face-to-face. When he rolled down his window, Bell spoke calmly, and said,
Hi. My name's Kristen. Do you realize how much you are putting my kids at risk? I have confidence your mom raised you better. I'm asking you to delete those photos.
Wow. "What wold your mother say?" has got to be one of the top five mom scoldings ever.
While I can't exactly say that would be the first thing that would come to my mind if a stranger were trying to snap unauthorized photographs of my children at their school, it sounds like the strategy worked: Bell said the photographer did, in fact, delete the snaps. And though she may have wanted to completely lose it on the photographer, she told Morales she knew she had to keep her cool. Bell said, "If I had gone up to that car and yelled at him, I guarantee you he would not have deleted those pictures."
Unfortunately, Bell is far from being the only celebrity parent who has had to deal with photographers attempting to snap pictures of their kids without their permission. Not long after welcoming twins, Ella and Alexander, in June 2017, George and Amal Clooney released a statement calling out a French magazine for taking unauthorized, long-lens photos of the couple's children, according to CNN. The statement read,
Over the last week photographers from Voici magazine scaled our fence, climbed our tree and illegally took pictures of our infants inside our home. Make no mistake the photographers, the agency and the magazine will be prosecuted to the full extent of the law. The safety of our children demands it.
And after Blake Lively learned that a photographer hiding in the bushes had snapped photos of her daughter, James, at an Easter party in April — and then made those photos public — Lively used an unorthodox (yet highly effective) tactic to get the photos removed. The actress opted to personally reach out to media outlets, as well as individual Instagram users, to let them know the photos were taken without her permission, and to request they be removed.
Bell's parking lot confrontation isn't the first time that she's attempted to push back against photographers invading her children's privacy, though. In 2014, Bell and her husband, Dax Shepherd, launched a campaign to pressure news outlets to stop publishing paparazzi photos of the children of celebrities, in an effort to make them less of a target of prying cameras. As part of the campaign, Bell sat down with Ellen DeGeneres, and explained her reasoning, according to a clip of Ellen:
We just wanted to kind of start a public conversation about the fact that children, under no circumstances, should be followed by strangers, with or without a camera. It just should never be OK. Because they can't understand what's happening, all they feel is that predatory feeling of being hunted. We made these decisions that we became public figures, we understand what's going on, but they don't. And there's so much erratic behavior that happens around schools and around parks ... and I just feel that we should put a stop to it.
Bell and Shepherd were successful: a long list of media outlets have since committed to specifically not purchase paparazzi photos that feature unauthorized photos of children. But unfortunately, as Bell recently learned first-hand, that hasn't prevented some photographers from still attempting to snap photos of her kids in the hope that someone will still buy them.
Respecting the privacy of celebrities' children should honestly just seem like basic human decency. But when you become a parent yourself, you quickly realize how scary and violating those paparazzi photos must really feel. As a parent, after all, your main priority is always to keep your children safe. And while Bell deserves a lot of credit for being able to successfully confront the photographer at her girls' school, the reality is that she never should have had to do it in the first place.
Check out Romper's new video series, Bearing The Motherload, where disagreeing parents from different sides of an issue sit down with a mediator and talk about how to support (and not judge) each other's parenting perspectives. New episodes air Mondays on Facebook.