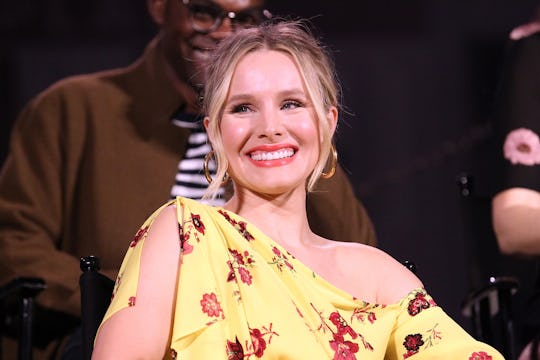 Leon Bennett/Getty Images Entertainment/Getty Images
Kristen Bell Celebrated Mother's Day 'Dad-Style' Because She Is An Actual Genius
Parents can often count on Kristen Bell to tell it like it is. I mean, Bell did confess to catching anal worms from her daughter, after all. It doesn't get more honest than that, right? Well, just when you thought Bell had reached peak *realness,* she upped the ante on Sunday by dropping a major truth bomb about Mother's Day. Apparently, Kristen Bell celebrated Mother's Day "dad-style," and there's a good chance you'll *love* the reason why. Get ready to say hell yeah, moms.
For most moms, Mother's Day is a flurry of activity. From hitting up packed brunch spots with the entire fam in tow (oh, what fun) to other highly orchestrated activities, it seems like Mother's Day is one of the busiest days of the year for mothers. Of course, one has to wonder why this holiday is so hectic when what most moms crave is some peace and quiet. Although I'm not a mom myself, I imagine many parents would prefer a chill day at home sans kids (Netflix, takeout, etc.) instead of a frenzied outing somewhere.
As for Bell, she agrees that moms deserve the opportunity to do whatever the heck they please on Mother's Day. Not only that, but Bell argues that moms should celebrate Mother's Day like Father's Day — a concept that actually makes a lot of sense.
"On Mother's Day, Mom is expected to get breakfast in bed, spend the whole day with their kids, and be with their family nonstop," Bell said via Instagram stories on Sunday, according to Working Mother. "And yet on Father's Day, what the dads do is they are like, 'Peace, I'm going to go golfing with my buddies.' No one bats an eyelash, and it's just generally expected."
Preach, Bell. It seems like moms have been getting the short end of the stick for quite some time.
Luckily for Bell, her husband, Dax Shepard, had a great solution to this unfair situation. Shepard, to his credit, encouraged Bell to enjoy a "dad-style" Mother's Day instead of hanging out with him and their two daughters.
"This morning, I said, 'Peace. I'm going to the flea market!' To be honest, I'm really enjoying this," Bell told her Instagram followers as she casually walked around the market, according to Kidspot. "I think the dads are onto something. So, moms, please feel free to take the day for yourselves."
To make matters even more ideal, Bell ended her day with a relaxing face mask. "Wrapping up #MothersDay like a boss," Bell captioned her final Instagram story on Sunday. Boss, indeed. Bell is definitely onto something here with this whole dad-style Mother's Day thing.
Oh, and if you're wondering what other moms think about Shepard's genius idea, the answer is it's a hit.
"Next year for Mother's Day, I'm taking a page out of @IMKristenBell's book and having a Dad's Mother's Day," one fan wrote on Twitter. "I'd probably enjoy the holiday more."
"@IMKristenBell My dad used to go Scuba diving on Mother's Day to give my mom a full day with the kids, quality time... then go Scuba diving on Father's Day so that he had an enjoyable Father's Day away," another person penned, according to Twitter. "so... yeah, @daxshepard is on to something there! #DadStyle."
Another person chimed in: "Kristen Bell's Dad-style mother's day is what's up. Look it up if you haven't heard. Amazing."
Of course, there's nothing wrong with wanting to spend Mother's Day with your loved ones. Family time can be great, and many people believe in the old adage, "the more the merrier." Still, moms deserve the option to decide how they'd like to spend their day — a luxury many dads seem to enjoy. Hopefully, Bell's dad-style day will inspire other families to examine how they treat Mother's Day versus Father's Day because every parent should be able to celebrate their special day however they wish.