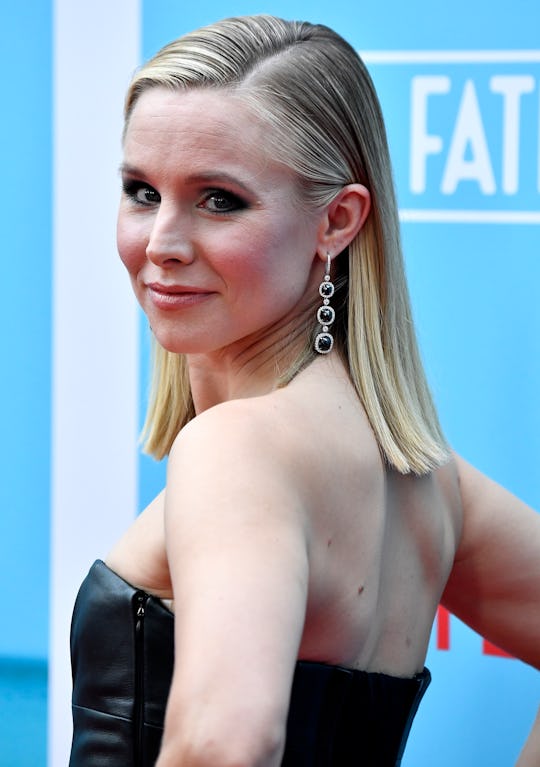 Frazer Harrison/Getty Images Entertainment/Getty Images
Kristen Bell Crying At Her Daughter's Preschool Graduation Is Pretty Relatable
Before I became a mother, I couldn't possibly understand how a "preschool graduation" could even be a thing, let alone something parents actually enjoyed. Then I had kids, and, well, let's just say I totally get it now. It's a super proud moment to watch your child complete their last step before big-kid school, and as silly as it may seem to non-parents, it can be pretty emotional too. So while the recent Instagram story video of Kristen Bell crying at her daughter's preschool is clearly meant to be hilarious, the truth is that it's also embarrassingly relatable.
The Good Place actress (and mom-of-two) shared a series of snaps on social media of herself attending the ceremony at her eldest daughter Lincoln's preschool, and honestly, I don't blame her at all for not being able to make it through the entire thing without blubbering. Not only did it clearly highlight the fact that her little girl is growing up super fast, the ceremony also featured an adorable performance of the children singing, "I've Got Peace Like a River," according to E! News, and I'm pretty sure you're dead inside if you can manage to sit through that without getting a lump in your throat. But always willing to take one for the team, Bell didn't just sit there sobbing — she also shared it on social media for the whole world to see.
In the first pic, Bell shared a photo of herself beginning to crumble, and quipped, "Don't worry guys, I'm having a GREAT time at preschool graduation. I'm not a mess or anything." In the follow up pic though? She shared a pic of her tear-stained face and wrote, "OK I was lying before, please send help."
Hopefully Bell can take comfort in the fact that she's far from being the only basket case parent who can't even sort of hold it together in these "no seriously, how is my child already this big?" moments. But even though it might not seem like a hug deal in the grand scheme of things (one day Lincoln will be heading off to college!), at the time, prepping your first-born for kindergarten really does feel like a huge deal.
In a recent interview with E! News to promote her new Netflix film, Like Father, Bell spoke about Lincoln gearing up for her fast-approaching first day of kindergarten, and said that while she said she personally felt "great" about it, she was trying her best to support her daughter through what would probably be a big transition. She said:
I've shown her the school and ... they do a great job at a lot of kindergartens where they have playdates during the summer where the kids can actually meet each other so the environment is slightly more familiar. And I've just told her, 'it's going to be a new school, and it's your school' to give her a sense of ownership. And [I'll] just be there for whatever she needs.
From the sounds of it though, Bell's daughter will likely already be more than ready for her school debut. In a recent interview with Entertainment Tonight, Bell said that one pretty impressive trait her daughters have picked up from their dad, Dax Shepard, is how to be a good critical thinker. She explained:
They ask a ton of questions and not annoying questions but questions that are leading them to sort of greater truth. Like this afternoon my husband was listening to a podcast about Watergate about how the Nixon presidency fell and my 5-year-old was like, 'Why did that woman want to call the newspaper?' And he was trying to answer and he's like, 'I can't unravel why the Nixon presidency tumbled,' and [Lincoln] was like, 'Well, try.'
I'm pretty sure that wanting to learn about Watergate at 5 years old will probably put Lincoln well ahead of the pack when it comes to her kindergarten classroom's political awareness, but judging from Bell's latest Instagram video, it seems pretty clear that she has one seriously proud mama regardless of how she fares academically.
Given how emotional Bell became on her daughter's graduation day though, she might just want to prepare herself for the potential emotional bombshell that's still to come. Because as many moms can surely confirm, no matter how composed you think you'll be at kindergarten drop-off on the first day of school, sending your first-born off when the bell rings can feel approximately a billion times more gut-wrenching than the struggle of preschool grad (stay strong, Kristen!)