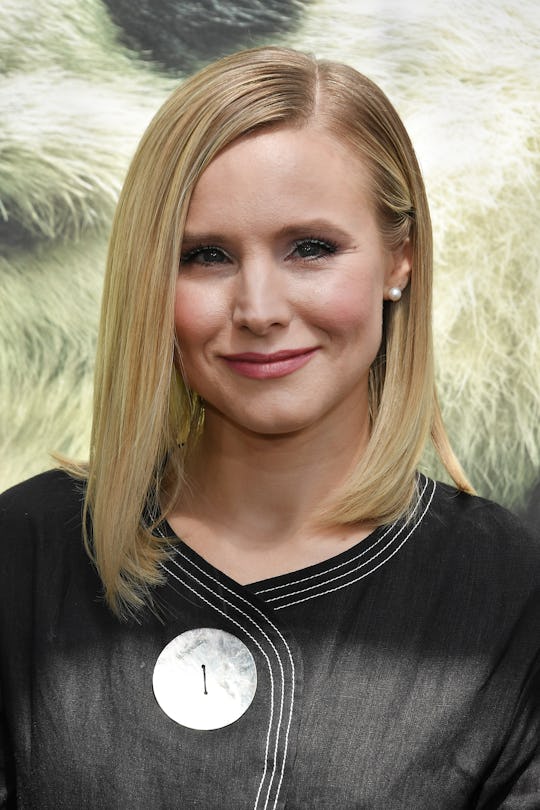 Neilson Barnard/Getty Images Entertainment/Getty Images
Kristen Bell Gets Real About Her "Choreographed" Family Schedule & Parents Will Totally Understand
Sometimes, just looking at the magnetic calendar hanging on my refrigerator gives me anxiety. Between my work schedule, my husband's teacher schedule and occasional evening work-related obligations, school pickup and drop-off for two-thirds of our kids, piano lessons, team sports, doctor's appointments, and more, it looks like a jam-packed, scribbled mess. And it definitely feels like our schedules couldn't get any tighter. However, with a little planning ahead, some help from grandparents, and a whole lot of coffee, somehow we manage to pull it off each week. And I can't even imagine how celebrities pull off their crazy work demands while raising kids. Recently, Kristen Bell got real about her "choreographed" family schedule and families everywhere will shout a collective, "Amen!"
As you probably know, the Bad Moms actress and her husband, Dax Shepard, are both successful within the entertainment industry. Because of their high demand, they often commit to long hours and/or are required to travel for their jobs. With two young daughters — Lincoln, 4, and Delta, 3 — this combination doesn't seem like the most logistical existence for child-rearing. And it isn't, necessarily. However, with a bit of finagling, Bell and Shepard are able to make it all work. (Stars: They're just like us!) On Saturday, while at the premiere for Pandas — an adventure documentary for which Bell is the narrator — in Hollywood, the funny mom opened up about how tricky it can be to balance it all. "It's a very particular family schedule when we're both working," Bell told E! News while on the red carpet. "Although I'm not working right now so he is taking on a larger work load." She added:
It's choreographed, I guess, to make sure someone is always there and present for our kids.
While chatting with E! News, Bell went on to say that she and Shepard feel "lucky" that working in Hollywood is as "family-friendly" as it is. "You can bring your children to work, or I could nurse the baby when I was working early on," Bell told the publication. "I hope to see more businesses — not just the acting world — allow that kind of stuff."
Amen, sister!
My family is also lucky to be able to arrange our schedules in a similar manner. (Although our salaries don't even come close to that of Bell and Shepard's... But that's beside the point.) Since my husband is a teacher and I'm a freelance writer, we're able to arrange our schedules so that one of us is almost always available for our three kiddos. For the most part, he works during the day, and I work in the evenings and one day over the weekend. And because "it takes a village," we often enlist the help of grandma and grandpa to help fill in gaps when it comes to some of the the logistics — like school pickup in the middle of my working a writing shift.
Even so, I realize that not all families are so lucky to have flexible work schedules or a parent who works from home. That's why, as Bell suggested, it would be so beneficial — for both employees and employers — if more businesses adopted family-friendly policies. Like paid maternity leave, for starters, which would help retain skilled female workers, according to Business Insider. Or other policies that would help out families — while also giving companies a competitive edge, according to HuffPost — such as: flexible work hours with the option of coming in earlier in order to leave earlier, the option to work remotely if needed, on-site childcare, or the option of bringing your baby to work for the first few months. Obviously, not all professions would be able to swing such accommodations. But you have to start somewhere, right?
Bell's comments on the ever-illusive family/work balance are also telling; despite what it looks like on the outside, her "choreographed" schedule doesn't always come together. "Being asked 'How do you do it?' implies that a) I am doing it, which I am not — I am doing what everybody else is doing, which is trying their best, and b) What is a balance, anyway? A balance teeter-totters. It moves, something gives and other things take, and other days it might be the opposite," she told Redbook Magazine in September.
As always, Bell's thoughts on motherhood are relatable AF. Her honesty makes me feel a little better about my family's stressful schedule that drives me to the brink of insanity on a weekly basis. At least I know I'm in good company, right?
Check out Romper's new video series, Bearing The Motherload, where disagreeing parents from different sides of an issue sit down with a mediator and talk about how to support (and not judge) each other's parenting perspectives. New episodes air Mondays on Facebook.