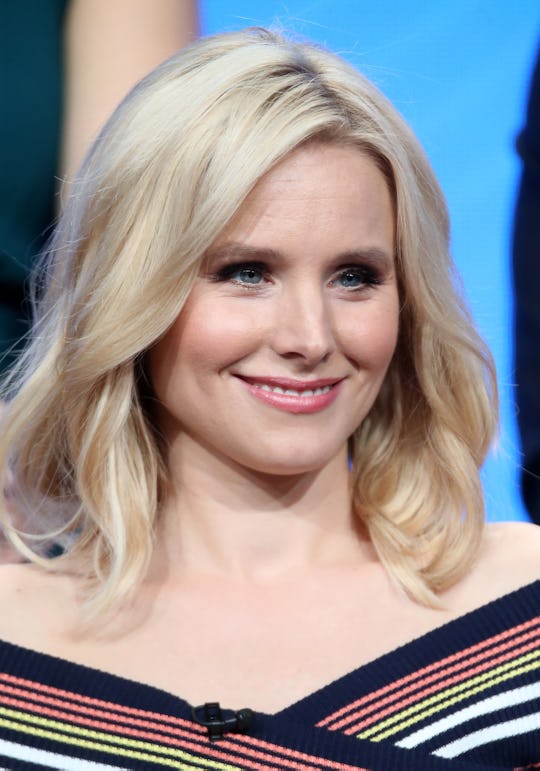 Frederick M. Brown/Getty Images Entertainment/Getty Images
Kristen Bell Is "Territorial" Of Her Time With Her Kids
When you're a working mom, it's not always easy to find that perfect work-life balance. You want your kids to get your undivided attention at home, but you also need to fit in some "me time" every once in awhile as well. It doesn't always work out that way for a mess of reasons, but more often than not it's because moms really want to be present for that quality time with their little ones and will do whatever it takes to ensure work doesn't get in the way of it. Echoing what most parents would say about motherhood, in a recent interview with E! News Kristen Bell said she is "territorial" of her time with her kids and explained how she's changed her career since becoming a mom.
"Personally, my first priority is to stay territorial of my family time," the 36-year-old mom of two told E! News on Saturday. "So when I have the luxury of looking at a job and seeing if it shoots out of town, I'm probably not going to do it."
"Are the hours awful? Will I miss six months of my kids' life? I'm probably not going to do it," she continued in the same interview. "So for me, spending their baby years alongside them and not on FaceTime is very important. And when I'm at home I put my phone by the door and I'm just with them."
Bell shared that pulling herself away from technology, emails, and social media was "hard in the beginning." But, now that this is her routine when she's spending time with her little ones, she told E! News that "it's quite liberating."
The Good Place star and husband Dax Shepard are parents to two daughters: 4-year-old Lincoln who was born on March 28, 2013, and 2-year-old Delta, who was born a year and a half later on Dec. 19, 2014. And once she became a mom, Bell shared how her perspective about any worries and problems she had when she was childless totally changed
"Motherhood right sized all my problems," she said in the same E! News interview. "Anything I thought I was worried about kind of evaporated when I realized my babies were healthy and that I could provide for them... I have become acutely aware of the fact that is not everyone's situation."
As if you needed another reason to love, Bell recently teamed up with Baby2Baby, a nonprofit based in Los Angeles that provides basic essentials, like diapers and clothing, for low-income children. On Saturday, she helped spread awareness for the organization by helping kids create beautiful gifts for their moms.
Of course, as Bell acknowledged, not every parent has this choice to turn down work or totally disconnect themselves from the outside world for a set amount of time. But even moms who aren't Hollywood actresses with a substantial net worth, they will go above and beyond to spend time with their kids and still many feel guilty because they don't believe it's enough. It's been said a thousand times before, but moms really do do it all even if they don't think so.