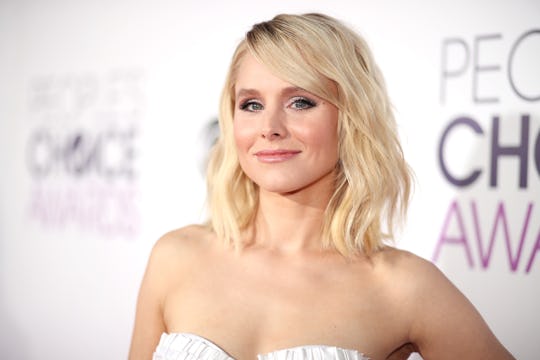 Christopher Polk/Getty Images Entertainment/Getty Images
Kristen Bell Opens Up About Letting Her Daughter Shave The Side Of Her Head
Kristen Bell and Dax Shepard have been open about how they parent their two daughters — they let them explore their creativity and don't hold them back. And it's especially refreshing to hear their take on this. So, people shouldn't be surprised to hear that Kristen Bell let her daughter shave her head and is very supportive of her decision. Kids will live and kids will learn — and she clearly knows this to be true.
Bell and Shepard have two daughters — 6-year-old Lincoln, and 4-year-old Delta. Although having two little girls so close in age might seem a little daunting to some, both parents are fantastic at raising their children in a way that is so true to them. This is why Bell probably shared that she let her oldest daughter shave part of her head, while she was hosting "A Perfect Night In" for American Express Blue Cash Preferred card, according to People.
"My oldest daughter shaved the side of her head a couple of weeks ago," Bell said. "I gave her permission. She woke up one morning and was like, 'I need to shave this whole side right here.' And I was like, 'What? It's got to be buzzed.'"
After this happened, Bell came to the most reasonable conclusion — she will never be as hip as her daughter already is at her young age. "And I was like, 'I've never been, nor will I ever will be, that cool to shave the side of my head.' And she did it, and she rocks it and she loves it. And she even said, 'I need a little trim, it's getting long.' And I was like, 'Oh, you're just like a skater girl. That's so cool.'"
Ideas like this one might sound a little outrageous when your six year old presents them to you. But, Bell's optimism towards her daughter's decision is very refreshing — her acceptance and outlook on her daughter's sense of style is so cool. She could have decided to tell her daughter "no" or been embarrassed by her shaving half of her hair off. But instead, she allowed for her daughter to explore her sense of identity and style, which is pretty admirable. Needless to say, Lincoln might be the coolest person in her class.
This isn't the only parenting lesson that people can take away from Bell — and this isn't the first time that she has stressed the importance of making thoughtful decisions when it comes to your kids. In a 2016 interview with TODAY, Bell revealed that her kids quickly developed their own sense of style and reject the things she wants them to do, just like she had done with her own mom when she was a kid. "Now I feel so apologetic," she said. "But seeing some of that in my girls, I realized I have to nurture their desire to be autonomous individuals. But it will be difficult."
This could be why in a 2017 interview with Us Weekly, Bell had some sage advice for parents trying to keep an even temper with their kids. "You don't want to be reactive to your kids," she told the magazine. "You want to be thoughtful and you want to be setting a good example. It's not about perfection, it's about being thoughtful."
It sounds like she will have to employ these tactics for the rest of her daughters lives, no matter how difficult it may be. While Lincoln might already be developing her cool girl persona by shaving her head, Bell revealed on Thursday night that Delta is incredibly outgoing.
"It boggles my mind how social [Delta] is," she said, according to People. "When we're on an airplane, she spends the majority of her time up in the front cabin either talking to the pilot or the stewardesses, not with me. She's four years old."
Needless to say, Bell has her hands full. But, she already seems to have such an amazing grasp on letting her kids be kids.