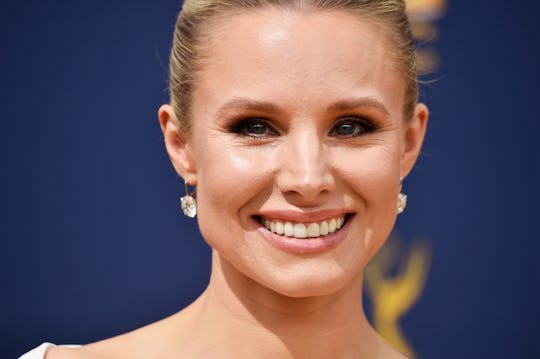 Frazer Harrison/Getty Images Entertainment/Getty Images
Kristen Bell Stays Cool When Her Daughter's Meltdown Includes Death Threats
Kristen Bell is a lot of things — actress, mom, wife, comedian, UN activist — but don't call her overly-sensitive. The star recently told Stephen Colbert that even though her 3-year-old is obviously going through the usual preschool-school-age rough patch of dealing with "big" emotions, Bell doesn't take her daughter's death-threat-inclusive tantrums personally.
Appearing on The Late Show With Stephen Colbert , Bell was in theory promoting the return of her hit show, The Good Place, for a third season, but talk soon turned to parenting.
"She's nuts!" Bell said in response to a question about the younger of her children. Bell has two girls with husband Dax Shephard, Lincoln, 5, and Delta, 3, as Us Weekly confirms.
"Sometimes, she tells me she's going to kill me. Sometimes it's with a gun," she told Colbert of Delta. "I know it sounds scary, we're talking to people, don't worry."
When Colbert looked surprised, Bell clarified: "If I tell her, 'OK, that's a wrap on [eating] the candy bar or whatever, she'll go, 'Well, I'm gonna get a gun and kill you, and I only like Daddy,' and then she'll just leave the room... I know it sounds really bad that my child threatens to kill me, but she doesn't have a gun, so I feel like it's not a real threat."
"Sure," Colbert agreed, comedically. "Everything sounds great."
"Yeah, things are good at home," Bell shot back before adding that in one day, she had recently juggled complicated questions from her kids ranging from whether Santa Claus was real to, "Why is Earth?"
"I'm like winging the parenting thing, so I was like, 'does anyone want to go in the pool?'" she added.
What's so special about Bell is her insistence on not playing the usual celeb game of glossing over everything. Being a parent while juggling a relationship, a career, and a sense of self is no easy task.
She's one of the few stars that is consistently honest about the fact that her life's not always picture-perfect. The truth is, kids do say surprising things sometimes, especially at Delta's age, and it's not always automatic as the parent to know how to react.
Even with growing awareness of gender inequality in Hollywood, many actresses find fewer work opportunities as they age out of "cute girl" roles, according to a 2016 study from University of Southern California's Annenberg School of Communication and Journalism, but Bell is one of those funny, multifaceted performers who I think has a chance at being a star throughout her life.
This season's The Good Place plot, for instance, finds her character, Eleanor, getting another chance on earth. She, herself has also branched out in her charity involvement: Bell is the first global advocate for the Women's Peace and Humanitarian Fund, a United Nations partnership with local organizations that encourages woman to promote peace within their own communities, according to the initiative's website.
The actress, who is also slated to appear in the Veronica Mars reboot, according to IMDB.com, recently told The Guardian that she genuinely sees her fame as a way to reassure others. "I know from the outside it can look like, 'Oh! She's got it so together! And has a career that looks nice and is doing all these things with these charities,'" Bell told the UK paper. "But I am struggling to keep it together on a day-to-day basis, and I know that's what everyone feels like, so that's what I like to see in my characters."
Thanks for the honesty, Kristen!