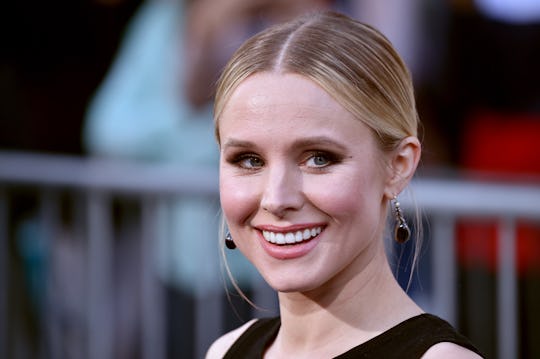 Frazer Harrison/Getty Images Entertainment/Getty Images
Kristen Bell On Teaching Her Kids Generosity
There are many reasons that Kristen Bell is one of the coolest celebrities out there: her hilarious turns on TV shows like The Good Place, her openness about mental health issues, her intense love for sloths. Now, time to add another reason to the list. Kristen Bell is teaching her kids generosity. And while it's not always easy, the actress says it's so worth it.
Bell knows that she and husband Dax Shepard lead charmed lives, and that it would be easy for their children, Lincoln, age 4, and Delta, age 2, to start taking all that they have for granted. So, as she told People at the annual Baby2Baby Mother's Day Playdate, she and her family "talk about the fact that we are very lucky to have food on the table and to have jobs and a roof over our heads."
But they're not just all talk and no action. The Frozen actress has spent time volunteering with organizations like People Assisting The Homeless (PATH), and she makes sure to get her children in on the service. According to Bell, Delta and Lincoln have come along on move-ins, when volunteers move families from shelters to homes, and the two girls have gotten into going through their toys and figuring out what they can donate to those less fortunate.
Of course, little Delta and Lincoln aren't always gung-ho about giving their toys away. Bell explained to People that the learning process could be a rough one, saying,
It's difficult for them, don't get me wrong. It's not easy — I don't have Mother Teresa children. But we talk about it, and that's what's important. And we say, "Are we really using these dolls anymore? Because there are kids that don't have dolls. Should we clean them up and see if someone else wants them?" And six times out of 10, their answer is yes.
Of course charity and service may be somewhat abstract concepts to children, who are egocentric by nature for much of their early lives. Still, while the idea of giving up stuff may provoke the occasional snafu or tantrum, it's so worth it to start talking to your children about generosity early, so that it seems natural to them as they grow into awesome, giving adults.
Teaching children about generosity also helps to show them that they're not alone. As Bell wrote in an essay for Parents Magazine back in October, "We are all on Team Human, and I tell my kids that the world is just our extended family."
Kudos to Bell for using the spotlight to set a great example, in times when we could all use a little more compassion.