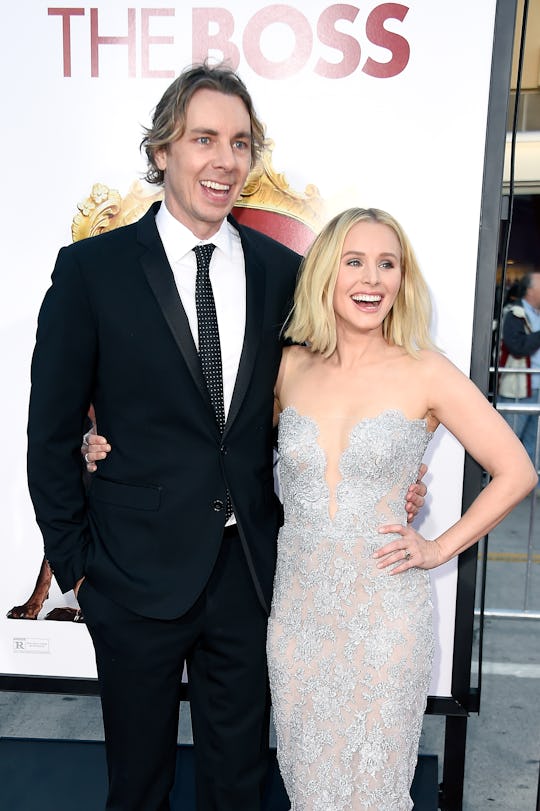 Frazer Harrison/Getty Images Entertainment/Getty Images
Kristen Bell Shared How She Disciplines Her Kids With Dax Shepard, & It's Really Admirable
Is there anything to not love about Kristen Bell and Dax Shepard? The super-funny couple seems to be the ultimate example of healthy #relationshipgoals — they have tons of love and respect for one another, but also readily acknowledge how hard they work to keep their relationship strong (including going to couples counseling). Even though they got engaged in 2010, they waited until 2013 to actually marry because that's when gay marriage became legal in their home state of California. And now that they're parents (to daughters Lincoln, 3, and Delta, 16 months), it's clear that they've applied the same respectful, accepting outlook to raising kids as well. Kristen Bell shared how she disciplines her kids in an interview with Us Weekly Tuesday, and from the sounds of it, she and Shepard are not only proponents of positive parenting, but they sound like they have it pretty much down to an art.
Any parent whose tried to raise a 3-year-old and an 18-month-old (or just a 3-year-old, or just an 18-month-old, or basically any age in between), can attest to the fact that it's not easy when they start to push back and misbehave. There are, of course, practically an unlimited number of strategies that people use to discipline their kids, but for Bell and Shepard, it sounds like the most important thing to them is thinking long term. The Frozen star told Us,
We have very strict rules in our family about how we treat people with respect, especially our family members. … We are going to be with each other in the long haul, so it's important to always be respectful and treat your sister the way you want to be treated.
But Bell said that's not always easy, particularly when the toddler tantrums come into play. The couple's strategy makes total sense though: just don't engage. She told Us Weekly,
One thing I've learned as a mom is it's really important to monitor when they are able to receive your information. We wait until they calm down and then we talk to them.
That's not just good advice for parents though, it works for romantic partnerships too! In an interview with Good Housekeeping, Bell and Shepard discussed how they had to learn how to prioritize respect above everything else to make sure that their relationship would stay strong. Bell admitted that, in the beginning of their relationship, she used to enjoy the drama of a big argument ("I loved slamming doors — I wanted a dramatic exit!"), but Shepard taught her that there had to be a different way if they were going to make it work. He said,
I read Blink, the Malcolm Gladwell book, and there's a chapter about this University of Washington researcher who interviews couples. His conclusion is that if you have contempt for your partner, it's done — you might as well get a divorce attorney. I said to Kristen, 'We should try hard to police ourselves about becoming contemptuous of each other. If I ever see you roll your eyes at me, we need to hit Pause and figure out what's going on'.
But admittedly, even the most well-intentioned parenting strategies go awry, and a little creative thinking helps to fill in the gaps. While Bell has said that her own children aren't fans of Frozen (which probably makes them the only children ever to not be obsessed with that movie), she has used her Princess Anna clout to help out friends who also have kids. At the premiere for The Boss, Bell's co-star Tyler Labine told USA Today that, when he was struggling with some sibling rivalry between his two children, Bell left a voice mail message for his daughter as Princess Anna, telling her that it's important to be a good big sister:
She left my daughter a voice message as Anna, saying, 'Hey, I heard you're having a hard time being a good big sister to your little brother.' Like, disciplined my child as Princess Anna. Not disciplined, but like gave her motivation to be like, 'Well, now I got to be the best big sister ever.' And it worked.
Not only is that probably the best solution ever, it also leaves me with one, very important question: how do I get Kristen Bell to call my daughter? Because honestly, she might not listen to me, but she will totally listen to Princess Anna.