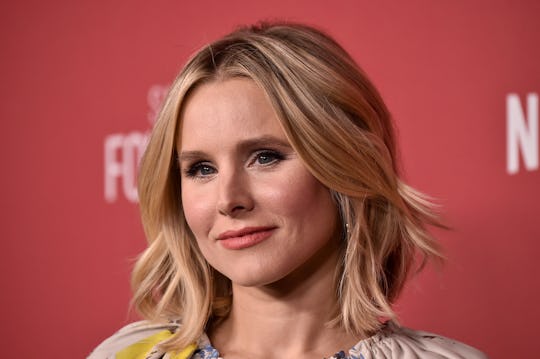 Frazer Harrison/Getty Images Entertainment/Getty Images
Kristen Bell Shares The Hilariously Harsh Way Her Kids Are Keeping Her "Grounded"
Kids can't seem to let Frozen go. Not that it's a bad thing; the film has been entertaining children (and their parents) all across the world since 2013. Kids are really obsessed with it. But parents should be assured to know that even the kids of the film's star Kristen Bell are still pretty into all things Frozen. Well, kind of. In the most hilarious Instagram post, Bell shared how her kids are keeping her "grounded," proving that kids really do hold nothing back and will always be your harshest critics.
Bell is the mom to two daughters — 4-year-old Lincoln and 2-year-old Delta — with husband Dax Shepard. While their kids might be young, they are old enough to form their own opinions and according to Bell's Instagram post, they really have strong feelings about one Frozen character. By now, it is well known that Bell lends her voice to Anna, the lovable and fearless younger sister of Elsa, who helps her sister realize the deepest love of all is the bond between sisters. Anna's headstrong personality and her relationship with Elsa takes centerstage in the film, but it appears that Bell's kids just don't care about that.
In an Instagram post shared to her account on Saturday, Bell showed just that. In the photo, her daughters' Frozen figurine appears to be loved but Anna's head just so happens to be snapped off. Because nothing says "I love my mom" like dismembering one of the characters she is most famous for.
"This will be the cover of my autobiography and it will be titled 'My Children Keep Me Grounded,'" Bell hilariously captioned the Instagram post.
Even though Bell is a very funny movie star and TV actress to the rest of the world, to her kids she is just "mom." By roughly playing with their Frozen figurine or purposefully snapping Anna's head off in a fit of rage, Lincoln and Delta clearly get the message across. And at the end of the day, there is really nothing more humbling.
But this broken figurine could also be because Bell's daughters just don't like the movie (such a shock, right?). Seriously, in March 2016, Bell told E! News that her daughters are fans of the film, just not the biggest fans. Bell said that she had put the film in for her daughter, Lincoln, to watch for the first time, but 15 minutes later she told her mom to turn it off, once again keeping her mom grounded. "She could care less...she keeps my ego in check," Bell told E! News. But this could have all changed, considering how Lincoln made Bell dress up like Elsa for Halloween this year. Or maybe, she did this because she really, really likes keeping her mom's celebrity status in check.
Regardless of her daughters' love (or hate) for Frozen, Bell's daughters seem to be filled with personality and love causing a little terror for their parents. In November, Bell shared a photo of the mess in her living room, caused by her daughters, to her Instagram. "This is a picture of both the floor of my house and the interior of my brain," Bell captioned the photo. And earlier that month, Bell revealed that her daughters accidentally walked in on her and Shepard having sex. If they're this bold now, who knows how bold they'll be within a few years.
Their fearless personalities could be attributed to the fact that Shepard told E! News that he is raising his girls to become empowered women in the future. By letting their kids be kids, Bell and Shepard are ensuring their daughters exhibit these traits later on. Shepard told E! News all about his technique to doing so:
You love them; you try to give them opportunities to build self-esteem and believe in themselves. You can't tell someone they're great. You have to give them opportunities to prove to themselves they're great.
Their kids have definitely proved to be great at one thing thus far at their young age — keeping their parents grounded.
Check out Romper's new video series, Romper's Doula Diaries:
Watch full episodes of Romper's Doula Diaries on Facebook Watch.