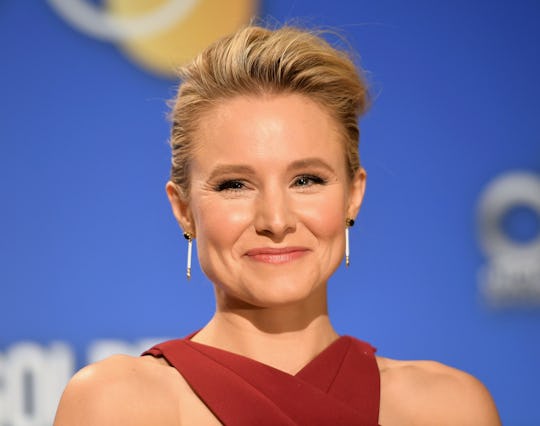 Matt Winkelmeyer/Getty Images Entertainment/Getty Images
Kristen Bell Shares Private Photos From Her Pregnancy With Delta, & They're Too Real
Let's face it, most stars definitely aren't "just like us." So when fans come across a celebrity that they can genuinely relate to, it's pretty special. In honor of her second child's birthday, Kristen Bell shared private pregnancy photos on her Instagram account this week, and trust me, they're not glamour shots. The four-photo collection goes from pregnancy to labor to Bell eventually holding a newborn Delta in her arms, and for those who have given birth, they're some pretty familiar scenes. No fancy lighting, no hair and makeup, just the real story of the day Bell's daughter was born.
Some might be surprised by the remarkable candidness of Bell's post, given that she and her husband, Dax Shepard, spearheaded a campaign in 2013 to prevent paparazzi from taking photos of celebrities' children. According to CBS News, the couple convinced a number of their A-list friends, including Bradley Cooper, Jennifer Aniston, Ben Affleck, Amy Adams, Michelle Williams, Katie Holmes, and Scarlett Johansson, to refuse interviews with any outlet that bought pictures from aggressive freelancers. "Picture what it would be like walking down the street with your child, whether it's trick or treating or just to school, and have 10 aggressive men taking their picture with a lens in your face, yelling, pushing other children outside of a school," Bell told Entertainment Tonight's Nancy O'Dell at the time.
But it's not that Bell and Shepard shy away from the public eye completely, and they're not hiding their kids away, either. The couple also has a 4-year-old daughter, Lincoln, and they do share photos and videos of the girls as they see fit. The couple also speaks frankly — and often — about their marriage, revealing that they've been attending couple's counseling since the beginning of their relationship. "We went to therapy early on to learn what our pattern of arguing was, and where we needed to stop that," Shepard told Good Morning America earlier this year. "Most people wait until the thing is exploding before they see a professional," he said, but "I thought maybe an ounce of prevention this go-around would be advisable."
In Bell's first photo, she's posed on an exercise ball, baring her impressively enlarged stomach with pride. Bell described the following scenes to Good Housekeeping in 2015:
When I woke up one morning with cramps, I knew I was in labor. Eighteen hours later, by midnight, we got to the hospital. I had an epidural and felt great. Eventually I was at seven centimeters, which is pretty far, but nothing was happening. I started walking around, which is [like], 'Get out! It's eviction-notice time!' But I did that for three hours with no progression.
If Bell was miserable during that time, you'd never know it from the photos, which show her pole-dancing with her IV unit and modeling her hospital-issued mesh underwear for Shepard. If you're expecting (or hoping to soon expect) your first child and you're confused, it's time you knew: at the hospital, you'll be expected to trade in your normal human underwear for a giant swath of gauze with leg holes. Not only are they hideous, they make you feel completely naked from the waist down (which you might as well get used to, since eventually you will be, for hours, in front of a room full of strangers). After giving birth, they'll be used to (very) loosely secure the nonadhesive textbook-sized maxi pad you'll need for the next six weeks. I'm sorry. I'm so, so sorry.
Bell told Good Housekeeping that she'd hoped to deliver Delta vaginally, so she'd be physically able to pick up Lincoln as soon as she got home. But Delta had other plans. "Finally, after checking the baby's position with an ultrasound, the doctor told Dax, 'I need to take her for the C-section.' I bawled for 10 minutes. I was so disappointed. I tried really hard!" Another important lesson for new moms: your birth plan is really more like your birth wish list.
But it was all worth it in the end, Bell said. "They put her on my chest, and I was so happy that everybody was safe and sound. The gift of the Magi is that when I got home, Lincoln didn't care that I couldn't pick her up! She couldn't have cared less." That look of contentment on her face says it all. Three years later, Bell has fond memories of that day. Her Instagram caption sums it up: "After 36 hours of labor I met a girl i love more than all the molecules in all the world. Happy birthday, Delta. Love, mom."
Check out Romper's new video series, Romper's Doula Diaries:
Watch full episodes of Romper's Doula Diaries on Facebook Watch.