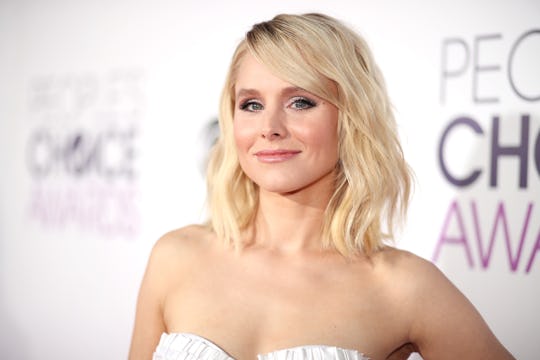 Christopher Polk/Getty Images Entertainment/Getty Images
Kristen Bell Tried & Failed To Pump Breast Milk Secretly While At Work & Honestly, Same
I, like millions of working mothers, can't untangle motherhood from my career. I don't have the luxury of time, flexibility, or money to separate my work duties from my parental ones. I've breastfed my son during phone interviews, changed his diapers while writing articles, and rocked him to sleep while skimming emails. That's why it's no surprise to me that Kristen Bell tried and failed to pump breast milk secretly at work. The Bad Moms star is basically every working parent out there.
According to People, Bell and her Bad Moms co-stars Mila Kunis and Kathryn Hahn recently visited The Ellen DeGeneres Show on Friday to promote the hit movie's sequel, A Bad Moms Christmas, which hits theaters next month. During their visit, Kunis recounted how Bell pumped breast milk during their first Bad Moms rehearsal.
The thing is, Bell didn't mean to be seen doing so. According to People, the 37-year-old actor was home in Los Angeles, so she attended the rehearsal via Skype and tried to pump while she was working. But Bell was on a 200-inch projector, which meant that she was "just a giant face" because she moved closer to the screen and she moved the rest of her body out of view, Kunis told DeGeneres.
Bell said about the incident, according to People,
I'm sorry. When you gotta do it, you gotta do it. I didn't know I was on a movie projector! I would have loved a heads-up.
I had to emphasize that line. Why? Because it's an important mantra for working parents to remember. So often parents — mothers in particular — are expected to be everything to everyone. It becomes impossible to juggle all of the tasks before them without some blending into each other. And many parents have to perform this balancing act with little to no support.
That's especially true when it comes to nursing or pumping. According to Parenting, the number of parents who breastfeed past the six-month milestone drops significantly — from 36 percent at six months old to 17 percent at 12 months old. For many parents, nursing becomes unsustainable because their work schedule either doesn't allow for time, or doesn't provide the proper — and legal — accommodations for pumping.
The thing is, breastfeeding and pumping breast milk are hassles. I've been there, done that. It takes a lot of time and energy, and sometimes you need to nurse or pump whenever you get a chance. And that may mean while Skyping during rehearsal for the first Bad Moms movie.
Of course, Bell is not the only one celebrity working mom owning breastfeeding and pumping without shame. Actor Alyssa Milano has been a strong advocate for public breastfeeding — even getting into a battle with Wendy Williams last year over her stance, according to Huffington Post. Singer and all-around badass Pink has also showed off breastfeeding-related multitasking skills on Instagram, as well as Walking Dead star Christian Serratos, according to Refinery29. And those are only a handful of celebrities who've shared their own breastfeeding experiences.
It's understandable, for reasons all her own, why Bell wouldn't want to show her pumping breast milk during a Skype session with her co-stars. I know that I wouldn't necessarily want to have my pump session on screen because it could be distracting while trying to read lines. But it's fantastic that Bell is not embarrassed by the incident and, instead, has decided to own it. And the truth is, as she told Ellen DeGeneres during Friday's show, she and her co-stars are moms. They have to multitask.
To expect otherwise is just plain foolish.