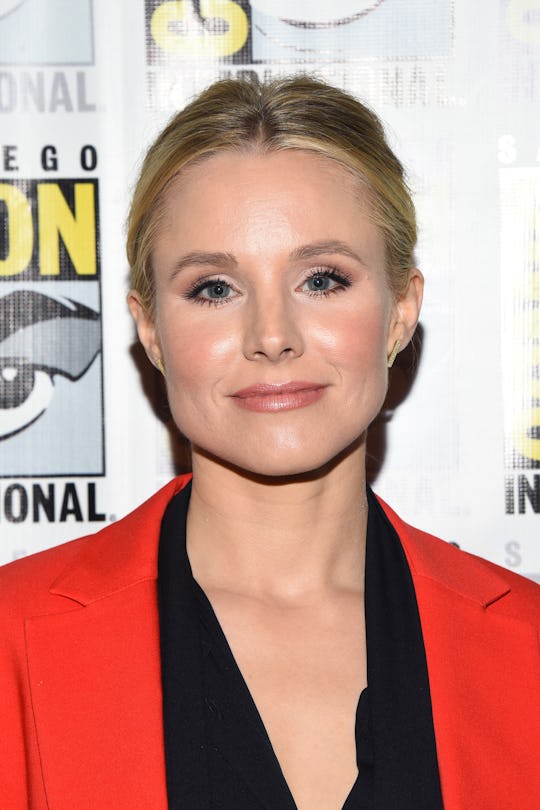 Araya Diaz/Getty Images Entertainment/Getty Images
Kristen Bell's Daughters Played A Prank On Her That Perfectly Sums Up Life With Kids
It's never a dull day when the kids are around. Case in point: Kristen Bell's daughters played a prank on her recently that perfectly sums up life with kids. At first glance, it's hard to tell what the picture shows, but upon further inspection, you can see pieces of bubble gum (not chewed yet, thankfully) taped to an upholstered chair. Say what? Apparently, Bell had the same reaction.
"Today my children have inexplicably decided to start taping loose pieces of gum to our chairs," she captioned a photo of the peculiar prank on Wednesday, adding: "I have a feeling this all part of a larger plan..."
Listen, kids love gum. They also love tape. So, melding the two together was basically a situation just waiting to be happen. Bell and her husband Dax Shepard, are parents to 5-year-old Lincoln and 3-year-old Delta, according to People, and this is definitely something children of their age would attempt.
And judging by the comments on Instagram, fellow moms can really relate.
"Omg girl - my kids went through this same phase and would I would find tape EVERYWHERE," one fan wrote. "I finally had to hide all the tape because I would seriously find it on the toilets, the kitchen chairs, sofas, blankets... it was literally one of the strangest habits they had."
"That's actually hilarious and something my kids would totally do just to fork with me 🤣😂," another chimed in.
One more commented, "Maybe the positive is that it's doesn't look like anyone chewed the gum yet? So sort of a soft attempt at mischief 🤪?"
Bell's picture is just one of many posts from parents, sharing about their struggles to figure out what their kids are up to. In fact, there's a whole tongue-in-cheek Instagram page called "Kids are the Worst," which highlights all the things kids do to drive their parents absolutely mad.
But, besides this wacky gum prank, it seems that Bell and Shepard's kids are pretty normal, especially for having parents who are constantly in the lime light. And it's probably because Bell and Shepard work hard to shield them from all the invasive things that go along fame, as Refinery29 noted.
They shield them so well, in fact, that their daughters apparently didn't even know their parents are "famous." According to SheKnows, when Shepard referred to himself as famous in regards to his podcast, Armchair Expert, his daughter wanted to know more. He said, according to SheKnows, "Why do you think people ask me and mommy for pictures when we're out in public?" To which Lincoln responded, "Mommy's famous?!"
With they keep daughters' faces off social media and away from paparazzi, Bell and Shepard regularly post about their parenting adventures. And for celebrities, they sure do celebrate the ins and outs of parenting, just like regular people. Take this recent Instagram post from Bell, depicting her husband fixing a pink and purple bike in a messy tool laden garage.
"The #dadbeast likes big butt books and fixin kids toyz," she captioned the photo. (For the record, Bell very often refers to Shepard as the #dadbeast in her Instagram posts, so give it a search.)
Here's hoping Bell found all the pieces of gum before sitting down for a break and that there weren't any more hidden around the house. Hopefully Bell continues to share more of her everyday life as a parent on social media. As the saying goes, kids will be kids, so parents better catch all their comedy on camera for prosperity sake.