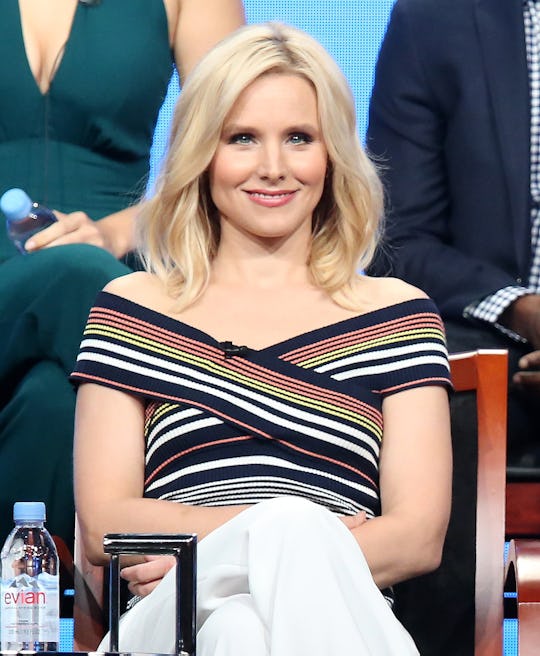 Frederick M. Brown/Getty Images Entertainment/Getty Images
Kristen Bell's Description Of Motherhood On The 2016 Emmys Red Carpet Was Amazingly Honest
The ladies on the 2016 Emmys red carpet are keeping it real tonight and we absolutely love it. Keeping things totally honest, Kristen Bell's description of motherhood on the 2016 Emmys red carpet made us love her even more. During her interview with Giulian Rancic, Bell discussed the great reactions real moms had to her latest film, Bad Moms. Bell explained how sweet it was to hear that groups of moms (and even some dads) got together to see the film and laugh about how daunting motherhood can be.
"They went as an event to sort of celebrate themselves and see a funny version of what they go through on a daily basis on screen and we hoped we captured that," Bell said honestly.
Bell then continued to describe to motherhood in her own special words.
"It's nice to sort of see the moments where you're not in a dress and you have avocado on every part of your shirt and you smell like urine," Bell said. And then she jokingly added, "I might still smell like urine."
Of course Rancic checked and Bell actually smelled wonderful, but Bell's candid response about motherhood was perfect. Although moms can be a master at making it look like they have it all together, the truth is parenthood is hard and can be difficult and often messy. That's what of the greatest parts of Bad Moms and it's great that moms across the country got to enjoy seeing that truth on film and having Bell acknowledge on the 2016 Emmys red carpet.
Besides giving us real insight on life as a mom, Bell also talked about her new show, The Good Place, where she plays Eleanor Shellstrop, a bad person who dies and is accidentally place in The Good Place. Bell's character attempts to right her wrongs in an effort to earn her spot in The Good Place. Bell stars opposite to Ted Danson in the show and it's already received rave reviews. The Good Place with premiere with two new episodes on Monday night following The Voice and air a third episode on Thursday during it's regularly scheduled night.
Although Bell isn't up for an Emmy this year she wins all the awards for the amazing Zuhair Murad dress she wore to the show. Looking absolutely stunning it's hard to believe she could ever walk around smelling like pee but that's just the life of a mom.