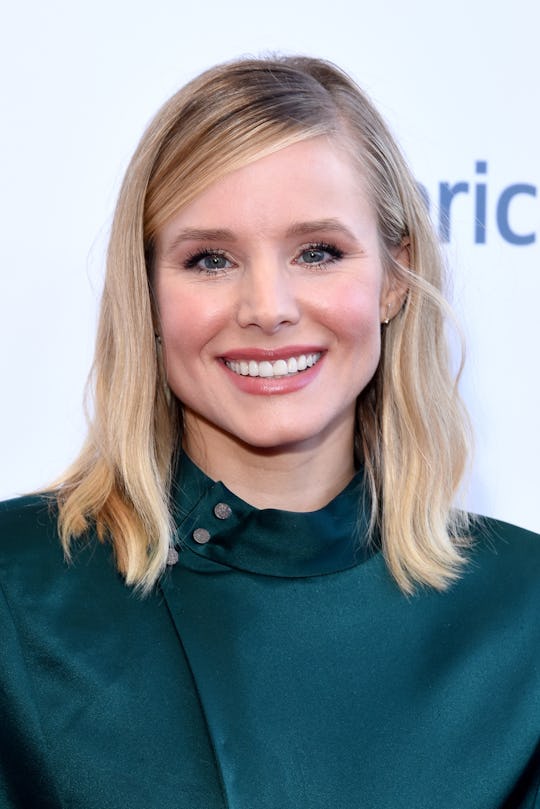 Presley Ann/Getty Images Entertainment/Getty Images
Kristen Bell Responded To A Fan On Instagram With This Empowering Message
If they're ever looking for a new Mayor of Hollywood, I know who I would write in on the ticket: Kristen Bell. The Good Place actress responded to a social media poster who admired the star's pre-Emmys glamour shots, but also put down her own looks. And Bell's empowering message to her fan that everyone is beautiful in a unique way is just what the doctor ordered during red carpet awards season.
It's easy for any of us to view superstars on the red carpet, groomed to the hilt after hours of hair, makeup and wardrobe styling, and, at least for a second, compare our jeans-clad selves (even if you took the time for a second of flat-ironing and a quick mascara swipe in the school drop-off line, like I shoot for). A busy mom herself, Bell understands all this, though, and insists on being real with — and supportive of — other women.
The exchange occurred yesterday when Bell posted a photo showing herself all dolled up in her fitted, white Solace London dress, ready to walk the carpet at yesterday's 70th Primetime Emmy Awards in Los Angeles.
"Thank u to all my babes who created one of my fav looks ever for tonight's #emmys. Styled by @nicolechavezstyle dress @solacelondon jewels @forevermarkusa glam @christinesymondshair ✂️ @amyoresman 💄," the star posted on Instagram.
To which one fan responded with total honesty: "So mother f—— beautiful," she wrote back. "U are stunning unlike me."
And while that would probably be the end of it in the case of many famous-but-overscheduled beauties, Bell was not going to let the matter drop. According to People, the actress noticed the post between Emmy appearances and right away fired off a message of encouragement.
"Gurl don't u dare," Bell responded, going on to say:
You got one time on this planet — don't waste time being negative. You deserve all the love in the world. And I think your face is beautiful AF. Don't u dare tell me I'm wrong. Here's your homework. Follow @glennondoyle and watch all her stories. Read her book, Love Warrior. Smile more, because u are alive and wonderful. And loved. Xo.
Bell's interest in pulling people up, even those she doesn't know, isn't just because she's cool. It's probably because Bell had her own battle with anxiety and depression, as was reported in the Daily Mail, which reported Bell's involvement in a public-service video about depression from the Child Mind Institute. Bell clearly feels the need to role-model positivity; not just for her own family — which includes hubby Dax Shepard and daughters Lincoln, 5, and Delta, 3, as noted by People — but for others as well.
"Negative thoughts attract and self-fulfill a negative outcome, so I do my best to re-frame the picture," the actress shared with the blog Create & Cultivate. "There is a lot of excess noise that comes with allowing everyone to have a say in your self-worth."
And while the actress lives in a world where looks count more than they should, she is vocal in her message that behind the gorgeous image, she understands what it's like to feel human doubts, as she has detailed to People. "It's important for me to be candid about this so people in a similar situation can realize that they are not worthless and that they do have something to offer. We all do," she said, according to the magazine.
I love what Bell did to uplift a fan having a rough time on Instagram and let's think of a way to get this inspiring woman into politics, OK? Today's world needs people like her helping to run things.