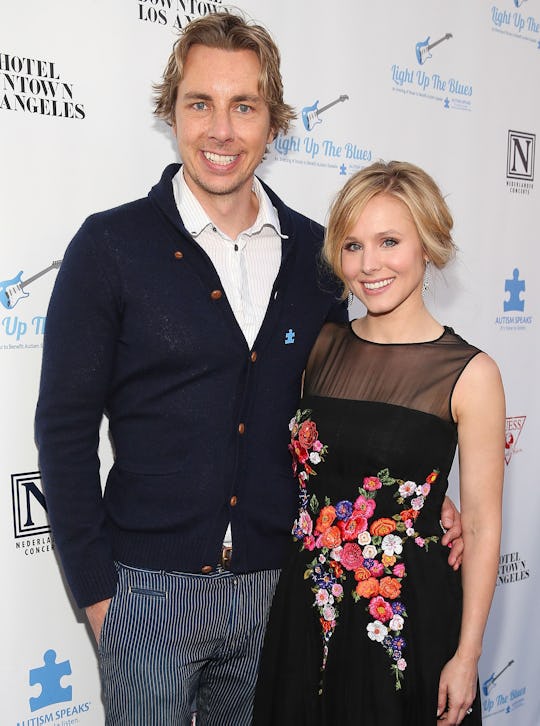 Imeh Akpanudosen/Getty Images Entertainment/Getty Images
Kristen Bell's Latest Advice To Moms Is An Empowering Must-Read
There is a lot of advice out there for new and seasoned moms who are looking to get a perspective on certain things that they just have no clue about. Celebrity parents delve a good bit of that advice out — because, really, there is no one that people would rather trust than their favorite actors that they look up to. Take Bad Moms star, hilarious actress, and mother of two daughters, Kristen Bell, for example. Bell has been outspoken about giving advice to her fans in the past, even if it isn't the best advice. And Bell's latest advice for moms about taking advice might be her most valuable, yet.
While not many moms want to hear what they are doing wrong when it comes to raising their kids, in an interview with Us Weekly on Thursday, Bell assured all mothers that they are doing parenting right — whether they take as much advice as they can get or refuse to take any at all. Bell told Us Weekly that she would tell her fans, when it comes to taking advice for those hard decisions, one thing — you do you. Bell said:
Take it all in and then decide what works for you. If you don't use a single piece of advice, that's fine. You don't have to. Just follow your instincts. But at least you know it's at your fingertips and you're not alone.
Bell, who is the mother to two young daughters with husband, Dax Sheppard — 4-year-old Lincoln and 3-year-old Delta — probably knows about trusting her instincts first hand.
But just because Bell told fans to trust their instincts, this is not to say that Bell hasn't given her fair share of advice to parents in the past. Bell has given tips to parents on how to live a more eco-friendly life with kids, what to do when your kids become too much (spoiler alert: hand them off to your partner), and how to handle your kid's tantrums (confidence is key). All of this advice, like most parenting advice, can and should be taken with a grain of salt. Every parent, child, and their experiences are different. Parents know what works best for their particular children and nothing can change that.
Following your instincts is something that does works, according to science. A 2012 study conducted by researchers found that when forced to choose between two options based on instinct alone, participants made the right call 90 percent of the time, according to the Daily Mail, proving that "trusting your gut instinct" is more than a throw around phrase that people use. A 2008 study found that the "motherly instinct" is "hardwired into the brain," according to New York Times, finding that mothers do "have an impulse" to love and protect their children. But, according to HuffPost, studies have found that there is no such thing as an instinct for women to have kids. So Bell isn't too far off in her advice for parents to trust their instincts — because moms do have them and those instincts do kick in.
If you're a fan of taking all advice in, like Bell said, then you could benefit from the advice she gave fans about the importance of raising your kids with the (sometimes unwanted) input from your partner. In that same interview with Us Weekly from this week, Bell told the magazine:
It is stressful to figure out how to solve the problems that come along with raising kids when there's more than one cook in the kitchen. It's all understanding that your partner also wants whats best for your child, and try to relieve a little bit of your stronghold.
The best advice comes from many places — from your peers to your favorite celebrities. But Bell's newest advice might be some of her best yet. Take all of the advice you can get, but at the end of the day, your instincts are there for a reason, so trust them.