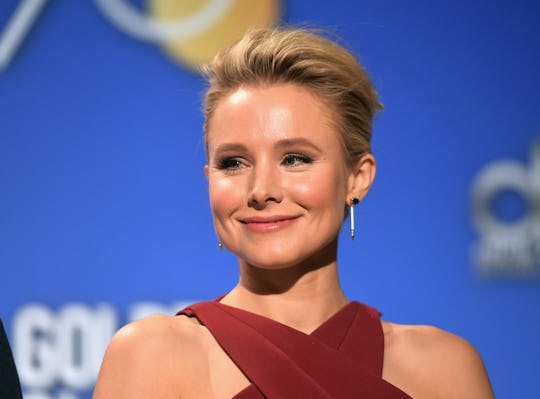 Matt Winkelmeyer/Getty Images Entertainment/Getty Images
Kristen Bell's Parenting Tips That Every Mom & Dad Should Take To Heart
I am not ashamed to admit that I'm a pretty big fan of Kristen Bell. I already loved her when she was just Veronica Mars, spunky private investigator, on the show of the same name. But it seems like she only got more awesome when she became a parent. She's currently starring in the role of mom in her everyday life, raising two kids with her fellow actor husband, Dax Shepard. Over time, Kristen Bell's parenting tips have grown into quite an awesome list that every parent might find useful.
Bell and Shepard have two daughters together: Lincoln, 4, and Delta, age 3, according to People. The parents tied the knot in 2013, but they've been together since 2007, People reported. They were married very quietly, without a lot of fuss, and Bell told People at the time, "we get more than enough attention in our everyday lives. I also wear more than enough party dresses."
But luckily for fans, Bell doesn't mind a little bit of attention when it comes to their lives as parents. Both Shepard and Bell are willing to talk openly about the struggles they face as a married couple and as parents, and while neither really posts photos of their kids very often on Instagram like some celebrities, they have talked about the experience of parenting on social media in the past.
And when it comes to advice for other parents, Bell definitely has a few tips she's more than willing to share. For example, in a video interview with Real Simple, Bell recently shared 5 parenting tips in particular with the women's interest magazine.
The first tip is that she communicates with her kids in minutes — for example, instead of saying "Let me change your diaper," she'll instead give her kid a choice, "How many minutes until I can change your diaper?" Seems simple enough, right?
Bell said that honesty is also super important for her. She thinks being honest with her kids is really key, and that's probably good advice for communicating with anyone, not just when it comes to dealing with little humans. She also recommends having a big family calendar with a to-do list, recycling any trash you can use for crafts, and evenly dividing parenting tasks between both individuals.
Bell also said that she and Shepard often use a "tag team" approach when it comes to their kids. She told Us Weekly in November:
We switch kids a lot.
I'll just be like, 'I don't want to talk to this kid anymore.'
And plenty of parents probably know that feeling very well. You can love your child to the moon and back, and still need a break from them every now and then.
Bell went on to say that the "swapping" kids technique she and Shepard use has a lot to do with not being "reactive" to them. She told Us Weekly:
You don't want to be reactive to your kids. You want to be thoughtful, and you want to be setting a good example. It's not about perfection, but it is about being thoughtful. In order to not be reactive, we switch kids a lot.
And of course, the fact that you should always try to set a good example for your little ones is a good piece of parenting advice all by itself.
Bell also believes that parents need to cut themselves a little slack, and not let their kids' behavior always impact their own self-esteem. She told Babble:
If my child is acting a fool in the grocery store, the embarrassment is on her. In truth, that shouldn't make me feel a certain way.
She's going to act the way a child acts...and I'm not going to let that reflect on me or bring me down. That shouldn't make me feel ashamed or embarrassed in any way. Only you can make you feel a certain way.
Which is actually really important for parents to hear. Mom-shaming is a real thing, and Bell just suggested that you don't have to feel shamed by other people for something your kid is doing. Sometimes kids have tantrums. That's life.
And of course, both Bell and Shepard are known for comedy roles, and Bell feels that you've got to accept the comedic aspects of parenting too. She once told TODAY:
Every day is something comical. Every day when you're raising kids, you feel like you could cry or crack up and just scream 'This is ridiculous!' because there's so much nonsense, whether it's what they're saying to you or the fact that there's avocado or poop on every surface.
So basically, Bell's parenting tips come down to being honest, communicating, cutting yourself some slack, and accepting the fact that when you're a parent, sometimes there's gonna be poop in unexpected places. Seems like some pretty solid advice all around.
Check out Romper's new video series, Romper's Doula Diaries:
Watch full episodes of Romper's Doula Diaries on Facebook Watch.