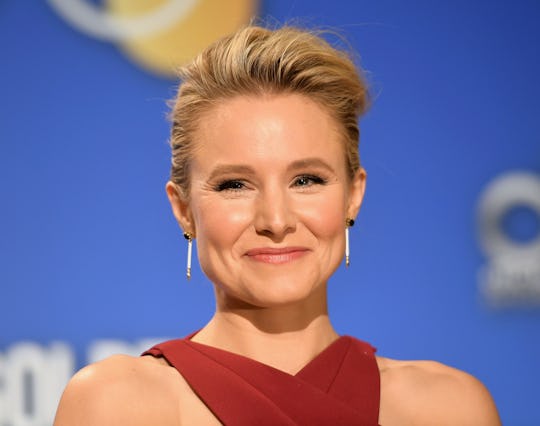 Matt Winkelmeyer/Getty Images Entertainment/Getty Images
Kristen Bell's Women's March Photo With Her Daughters Is Perfection
Women and allies from around the globe are gathering once again this weekend to send a message about equality; the rights of women, minorities, and LGBTQ+; sexual harassment; and more. That's because this weekend marks the first anniversary of the historic Women's March that was centered in Washington, D.C. Whether they're actually at one of the hundreds of sister marches across the nation — or they're simply posting on social media in solidarity — many celebrities are showing their support for these important issues. And Kristen Bell's photo at the Women's March only confirms how much of a badass, feminist mama she really is.
While the goal of the Women's March is much the same as last year, for 2018, event organizers are focusing on mobilizing Democratic voters and getting more progressive women into office. Thus, the "Power to the Polls" theme and a strategic, central location of Las Vegas. Although it isn't clear whether the actress — and mom of two daughters, Delta and Lincoln — attended the march this year, Bell did share a throwback photo of the trio from the 2017 Women's March. "Me last year at the #womensmarch. Holding up my fellow women and reminding them they have rights and agency over their bodies," Bell wrote today on Instagram. "Would do it again today, and any day in the future."
If you're wondering why two hearts are blocking out Bell's daughter's faces, it's because she and husband, Dax Shepard, have been extremely protective of their kids' privacy from the beginning, reported HuffPost. Meaning, no photos of their faces posted on social media. Ever. "I'm telling you right now, we don't want our daughter's face anywhere ever until she decides because I have the utmost respect for her," Bell told Access Hollywood in 2014, of her daughter, Lincoln. The celebrity couple has also been vocal about protecting children of celebrities from paparazzi ambushes, according to HuffPost.
And that's not the only issue the Bad Moms star has been vocal about — far from it. Bell has regularly been open about her political views, as well as her feelings about our current president. In July 2016, when Donald Trump was still a presidential candidate, he tweeted about the movie, Frozen, reported HuffPost. (If you remember, Bell is the voice of Anna in this popular Disney movie.) "Where is the outrage for this Disney book?" Trump tweeted, alongside a photo of the "offending" book. "Is this the 'Star of David' also? Dishonest media! #Frozen."
Needless to say, Bell quickly shut down that nonsense, reported Us Weekly.
"Zip it Don & get ur head outta ur a**. We've more important things 2 think abt today," the actress tweeted. Soon afterward, Bell started a conversation on Twitter about one of the "more important things" that did deserve attention — the topic of gun safety in relation to police brutality. "I have compassion for the fear the officers feel. I also think they often shoot too quickly," she wrote.
And who could forget that hilarious parody in which Bell was featured on Funny or Die? In the video, Mary Poppins — played by Kristen Bell, of course — is quitting her job because she simply can't swing her bills anymore. The lyrics, "Just a spoonful of sugar helps the medicine go down," were traded for, "Just a $3 increase makes a living wage." LOL. (Actually, I'm not sure whether to laugh or cry.) I guess it's funny because it's so enraging-ly true?
The thing is, Kristen Bell refuses to be silenced about her political views — despite the fact that celebrities often receive flack for "taking advantage of" their fame in order to shed light on important issues. "So I'm not a citizen anymore because I'm an actor? F*** that," Bell said at the BE Conference in Austin, Texas, this past March, according to The Wrap. She continued:
I'm not any less allowed to share what I believe, and I'm very lucky for that and to have the audience. When people are listening you don't quiet down, you speak up.
Kristen Bell has been on the short list of my favorite celebrity moms for quite some time. (I mean, her thoughts on motherhood are completely relatable and hilarious.) And the fact that she's a badass feminist on top of it all? It pretty much takes her to the very top of my list. Keep on being fierce, mama! You are seriously an inspiration.
Check out Romper's new video series, Romper's Doula Diaries:
Watch full episodes of Romper's Doula Diaries on Facebook Watch.