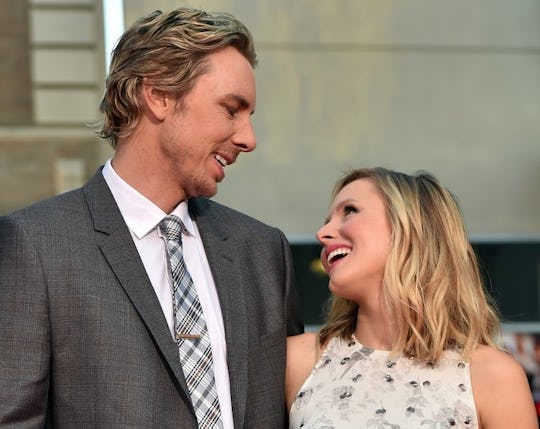 Kevin Winter/Getty Images Entertainment/Getty Images
The Amazing Reason Why Kristen Bell Called Dax Shepard A "#DadBeast" In This New Photo
When it comes to getting a glimpse at the everyday lives of our favorite celebrity parents, there aren't that many people who are super relatable. But Kristen Bell's photo of Dax Shepard fixing their daughter's bike is not only one of the sweetest things you'll see all day, but her declaration of him as the "#dadbeast" will have to find its way into your own family's vernacular.
On Sunday, as People reported, Bell uploaded a photo of her husband fixing a pink PAW Patrol bike shirtless, just in front of a propped up book titled The Big Butt Book. She captioned the shot: "The #dadbeast likes big butt books and fixin kids toyz."
Fans immediately began responding with tons of love and support. "Could you guys be any more cute and relatable? Like really," read one response. "Did he fix it though?? There's two things that happens when dad's try to fix things: leftover pieces or success," inquired another.
Though Bell didn't disclose which of her children the bike belonged to, she and Shepard have two daughters together: 3-year-old Delta and 5-year-old Lincoln.
This is not the first time in recent history the couple has made headlines for their candidness on social media. For example, on Sept. 1, Bell posted an emotional tribute to her husband congratulating and thanking him for his sobriety, as ABC News reported. Bell began on the post, before congratulating her husband on 14 years of sobriety:
To the man [who] mocked me in our wedding photos because I cried too many tears of joy, who wore a baby Bjorn for 2 straight years to show his girls how to be as adventurous as possible, who held our dear little shakey mann pup for 8 hrs straight on the day we had to put him down, I know how much you loved using. I know how much it got in your way. And I know, because I saw, how hard you worked to live without it. I will forever be in awe of your dedication, and the level of fierce moral inventory you perform on yourself, like an emotional surgery, every single night
She continued, "I'm so proud that you have never been ashamed of your story, but instead shared it widely, with the hope it might inspire someone else to become the best version of themselves."
Though the couple is known for their humor, it's clear that they aren't afraid to keep it real. Bell also told TODAY that it was her husband that inspired her to open up about her own mental health journey, and to talk about her struggles with anxiety and depression candidly. "It occurred to me that I was showing this very bubbly, bright persona, and that it was inauthentic. Because it wasn't telling the whole story," Bell told TODAY Parents. "I had a pit in my stomach for almost feeling ashamed that I had hidden it for so long, because it could've helped people before if I had talked about it."
Regardless, both Bell and Shepard bridge the gap between keeping it honest and keeping it lighthearted better than most, and whether they're talking about their honest struggles or the funnier parts of raising a family, #dadbeast (and, well, #mombeast, if we may be so bold) is definitely a title you earn.