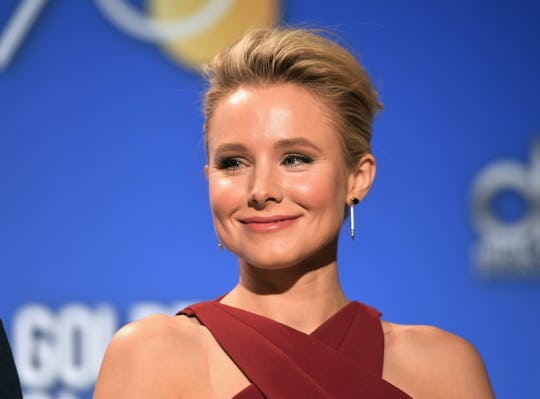 Matt Winkelmeyer/Getty Images Entertainment/Getty Images
Kristen Bell's Photo Of Herself Covered In Stickers While Shopping Is Relatable AF
Oh, Kristen Bell. She's one celebrity mom we can always count on to keep things real when it comes to parenting. (Along with my other favorites, Chrissy Teigen and Pink.) Whether it's her relationship with Dax Shepard, her mental health struggles, or simply the everyday shenanigans that comes with raising children, the actress and mom of two doesn't sugarcoat her crazy balancing act of a life. And hot mess moms like me are forever grateful for this. Proving once again why moms everywhere love her, Kristen Bell's photo of herself covered in stickers while grocery shopping is relatable AF.
As Scary Mommy reported, Bell recently shared a selfie of herself in a grocery store aisle on an Instagram Story — and if you're not an avid follower, you may have missed it entirely. With canned tomatoes in the background, no makeup on, and two large stickers haphazardly slapped onto her face, the Bad Moms star is shown staring directly into her phone's camera lens with a deadpan expression. "I am currently walking through the grocery store being assaulted by a toddler with stickers and not a single person is calling the police," Bell wrote on the photo. LOL! Same. My kiddos love adorning me in stickers— and when I was pregnant with baby number three, my toddler made sure to decorate my bump, too.
I mean, we've all been there. Right? And this certainly isn't the first time Bell – who has two daughters, Lincoln, 4, and Delta, 3, with her husband, Dax Shepard — has kept it real on social media. Like this shot of her kids' toys overtaking an area of her home. "This is a picture of both the floor of my house and the interior of my brain. #momlife." Yasss. So this. It's a constant battle at our house to at least keep toys contained to the "play room." But no matter how hard I try, kid stuff always finds a way to infiltrate all areas of our living space. Clearly, it's a war I'll never win; but I fight on nevertheless.
And is it just me, or are Bell's parenting-related Frozen references always on par? (I mean, she is the voice of Princess Anna, after all.) On Dec. 9, Bell posted a photo of Anna and Elsa figurines — except Anna seems to have been decapitated. Because children. The A Bad Moms Christmas star perfectly captioned the Instagram photo with, "This will be the cover of my autobiography and it will be titled 'My children keep me grounded."
Bell hit the nail on the head with this little anecdote back in October, when she was stuck wearing the "wrong" Halloween costume, reported ET Online. "When your daughter demands you BOTH be ELSA for Halloween ... you GRIN AND FORKING BEAR IT." It's so true! At least from my experience, most little kids always want to be Elsa and poor Anna ends up getting the shaft.
In an interview with Us Weekly earlier this month, Bell also revealed what she believes is the hardest part about parenting. "The lack of sleep. I think that fuels everything," she told the publication. "It fuels my lack of patience with my kids sometimes. If I had had a full night's rest, I would be able to be more patient with them sometimes." Bell continued:
It's a tossup between that, and truly feeling confident that what you're doing for your child is the best thing, because it is extremely counterintuitive. Giving them everything and keeping them happy is not the best thing for the development of their character. It's hard to be the reason your child's crying and sit there and watch it cry.
The bottom line: I wish I could personally thank Bell for continuing to portray a well-rounded depiction of parenthood — even the not-so-pretty parts.
Because having kids is hard. And sometimes, being reminded that other parents struggle with the same issues is all we need to help get us through the day.
Check out Romper's new video series, Romper's Doula Diaries:
Watch full episodes of Romper's Doula Diaries on Facebook Watch.