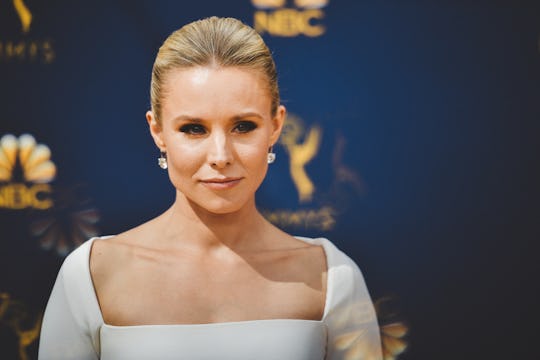 Matt Winkelmeyer/Getty Images Entertainment/Getty Images
Kristen Bell's Rare Photo Of Her Daughters Still Upholds Her Privacy Policy
Those who keep up with Kristen Bell and Dax Shepard know this funny couple has quite a few passions in life. Not only are they brilliant actors, refreshingly candid about their personal lives, and the parents of two young daughters, Lincoln and Delta, but they also support a number of worthy causes along the way. Among these is a dedication to protecting the privacy of celebrity children — including their own. And even though the actress typically sticks to keeping her kids' images offline altogether, Kristen Bell's rare Instagram photo of her daughters still upholds her social media rules.
As Inquisitr noted, Bell took to Instagram on Tuesday, Oct. 30 to share a photo of Lincoln, 5, and Delta, 3, having a blast at Glamis Sand Dunes in southern California. The girls are shown playing with toys on a blanket while dressed in swimsuits. Although the sisters were photographed at relatively close proximity, the sun-bleached nature of the lighting combined with the fact that they have their backs to the camera makes it so no distinguishing features can be seen. Bell captioned the shot with, "Caked with sand on every inch, unshowered for 5 days, and loving that sand dune life #glamis #camping."
While it definitely looks like the sisters are having a good time, this non-outdoorsy, shower-every-day-no-matter-what mom is over here cringing. But hey, each family has their own preferences when it comes to vacations. (So who am I to judge?)
Apparently, Shepard and Bell love getaways like this one. "We go to the sand dunes on all of our vacations to go off-roading," Shepard said during an appearance on Late Last Night with Seth Meyers, according to People. When Meyers asked if his daughter ever join him, Shepard jokingly replied, "I have car seats strapped to the back, I strap their car seats into the five-point harness and then the car seats have a little harness and they have these cute earmuffs." LOL. That's definitely an interesting visual.
Sand dune vacations aside, Bell and Shepard have made it a practice to not share any close-up photos of Lincoln and Delta via social media — or photos that show their faces in any way. And they expect that paparazzi will also respect their wishes.
As HuffPost reported, the couple were vocal supporters of the "No Kids" Policy movement back in 2014, which stood against paparazzi ambushing children of celebrities. (Which just seems like a common courtesy to me, but apparently this requires a whole campaign to get the message across.) In January 2014, Shepard tweeted, "Please boycott magazines that run pics of 'celebrity children.' They shouldn't be punished for who their parents are."
Bell echoed these sentiments during a March 2014 segment on Access Hollywood. "I'm telling you right now, we don't want our daughter's face anywhere ever until she decides because I have the utmost respect for her," she said of their daughter, Lincoln.
As Today reported, the battle is still ongoing. Earlier this year, Bell shared about an encounter with a paparazzo that happened at her daughters' preschool. Bell was at the Mom 2.0 Summit in Pasadena, California when she recounted that she spotted a paparazzo taking pictures of her daughters as she picked them up from school. Knowing how dangerous it would for the public to know which school they attended, Bell decided to calmly confront the photographer. She drove across the street with her girls in the car, blocked in the photographer's car, and then knocked on his window. "Hi, my name's Kristen," she said to him, according to Today. "Do you realize how much you are putting my kids at risk" [by taking pictures of them while they're at school]? I have confidence your mom raised you better." Bell asked him to delete the photos, and he complied.
I love that Bell and Shepard are still able to share so much about their parenthood journey while still respecting their daughters' privacy. To me, it's cool to see how they've gotten creative through the years so they can still technically share photos of Lincoln and Delta — but not really. Kudos to them for sticking to their principles. I'm sure their daughters will appreciate their diligence more fully when they're older.