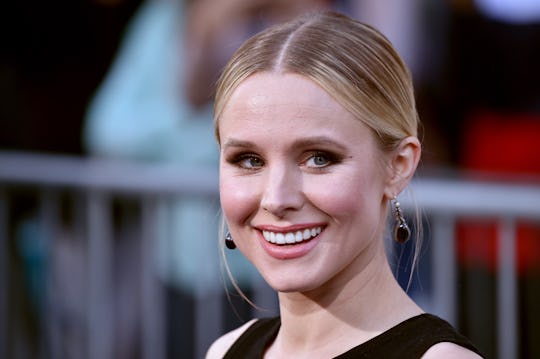 Frazer Harrison/Getty Images Entertainment/Getty Images
Kristen Bell's #TBT Instagram Reveals Sweet Moment Before Baby #1
Celebrity Throwback Thursdays on Instagram are always fun, and they're especially neat when they give us a glimpse into what stars' lives are like behind the scenes. Super bonus points if the memories involve cute kiddos, too! This week the star of Veronica Mars and Frozen shared a photo that had it all: Kristen Bell's #TBT Instagram reveals the sweet moment before she welcomed baby number one.
While the youngsters of today probably only know Bell as the voice of Anna from Frozen, their parents probably remember her as Veronica Mars — the early 2000s mystery drama that Netflix greenlit for a reboot earlier this year. Previously, fans of the show actually managed to crowd fund enough money to get a feature film made back in 2014. Bell was also immortalized as the source of all things drama on the hit show Gossip Girl — even if people didn't know her by name, they often recognize her signature voice ("XOXO — Gossip Girl").
Bell is married to Dax Shepard of Parenthood. The couple has been together since 2007, but had decided not to marry until it was legal for gay couples to do so in the state of California, according to People. Sticking to their word, Bell and Shepard didn't marry until 2013, after same-sex marriage became legal in the state.
The couple have two children together: Lincoln, 4 and Delta, 2. It was older sibling Lincoln who was featured in Bell's Instagram post on Thursday — at least, sort of. Bell posted a sweet photo of herself and Dax with the caption:
#tbt to 4 years ago- the calm before the storm. Practicing our ride to the hospital- in our new "family car" (a 1995 wood paneled Buick Roadmaster station wagon). Patiently waiting out month 9. Thank you, @mrchrislowell for this picture.
Earlier this week, Bell told The Today Show that when it comes to parenting she really enjoys talking to other moms about their experiences and is always up for some advice. "I don't care if your filter is judgmental or altruistic," she said, "I still want to hear it because it may be valuable to me."
Bell, who has long been an advocate for mental health awareness and has spoken openly about her struggles with anxiety, also told Today that she stopped saying a certain phrase to her kids:
I stopped saying, "It's OK," to anything in their lives. My older daughter gets embarrassed a lot, and I don't say, "It's OK. It's OK." I simply sit next to her and I say, "Do you feel embarrassed?" And she'll say, "Yes." And I say, "I feel embarrassed, too, sometimes. Sometimes I trip and I feel embarrassed or I break a bowl and I feel embarrassed. I used to feel embarrassed a lot more as a kid, but as you become an adult, some of that stuff goes away. So, I allow them to have their feelings — because I think saying, "It's OK," all the time doesn't do anyone any favors. It just makes them subconsciously think that they're not supposed to be having those feelings.
While Bell might be open to receiving advice from other parents, it turns out she's actually doling out some pretty sage wisdom herself — and that makes the nostalgic tone in her #TBT Instagram and her parenting journey so far that much sweeter.