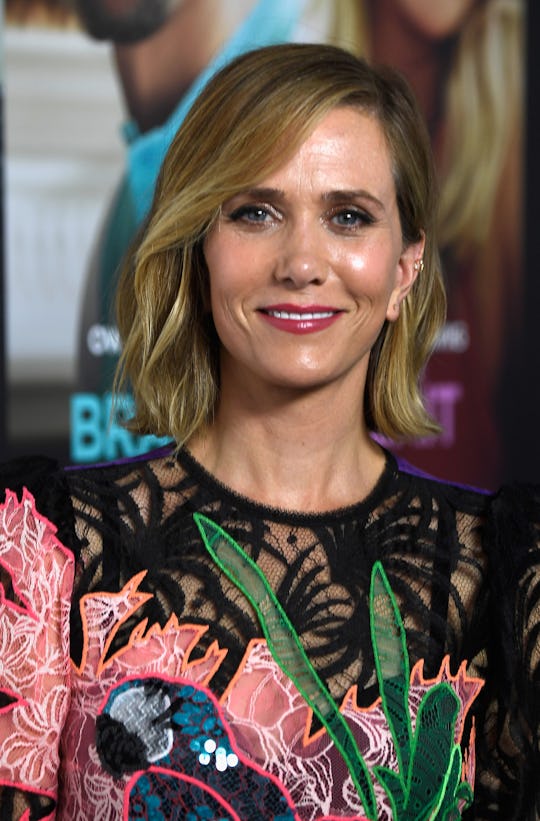 Frazer Harrison/Getty Images Entertainment/Getty Images
Kristen Wiig Will Host 'Saturday Night Live' Again, So Prepare For Some Big Throwbacks
There's no way I will be missing Dave Chappelle host Saturday Night Live this weekend. But it looks like I'll be making a bigger indentation on my couch than I thought, because Kristen Wiig will be hosting SNL for a second time on Nov. 19, with The xx performing. Wiig initially appeared on the sketch show in 2005. It wasn't long before she became an SNL regular in 2006 during Season 32. Her hilarious portrayals on the famous stage led to four Emmy nominations in the category of supporting actress.
Wiig departed the show in 2012 to spread her wings. Ever since, she has starred in films such as Bridesmaids, Ghostbusters, Welcome To Me, The Skeleton Twins, and The Martian. She returned as host to her beloved late-night show on May 11, 2013, accompanied by the band, Vampire Weekend.
The comedic queen is often associated with her impersonations. Wiig knew how to swap masks with the speed and expertise of a Cirque du Soleil performer. She was a "versatile, try anything once type of gal." We will take a closer look at some of her best work below. Wiig was a breath of fresh air, or should I say made you choke on air, with memorable characters such as a Target employee; Gilly; fast-talking, panicky Penelope; and her recurring role behind the "Weekend Update" desk.
When Wiig Was Khaleesi On The Tonight Show
Of course, her favorite food was "meat." ‌
When Wiig Was "A Huge Mess" As Cinderella
This Real Housewife parody captured everything we didn't want to know about Disney princesses.
When Wiig Had A Nightmare Plane Ride In Bridesmaids
I still appropriately whisper "help me, I'm poor" to this day.
When She Taught Us How To "Flirt" As Rebecca Larue
This technique always works, "it's like body language stuff."
When Wiig Played An Amazing Kris Jenner
And she joked about what she would have to do to get some attention — namely kill someone.
When She Had Those Hands As Dooneese
If we're lucky, Dooneese will make an appearance in the cold open during her return to SNL.
When She Presented J. Law With A Golden Globe
5 words: "You get out of here!"
I, personally, can't wait to see what Wiig's return to SNL means for long-time fans. Whatever it may be, I know it will be hilarious, and I can't wait.