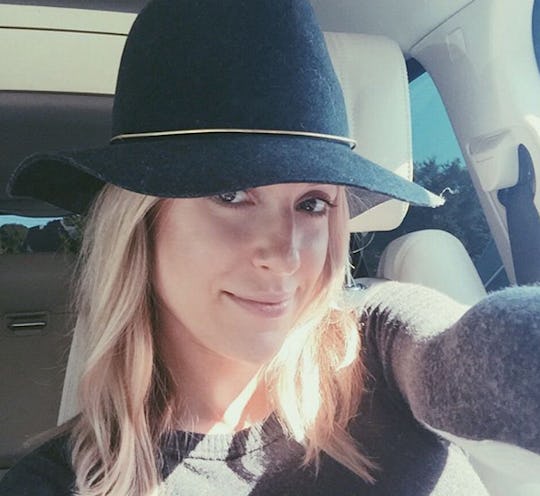 KristinCavallari/Instagram
Kristin Cavallari Gives Birth To Baby Girl, & Her Name Is Pretty Much The Sweetest
Looks like some major congrats are in order: On Monday afternoon, former reality star Kristin Cavallari gave birth to her third baby — a 7 lbs., 6 oz. girl named... wait for it... Saylor James Cutler. (Is that not the sweetest name ever?) What makes the name even better is the adorable story behind how Cavallari and her husband, Chicago Bears quarterback Jay Cutler, arrived at it: It was the name of someone's dog she once met.
While that may cause you to raise an eyebrow or two at first, I swear, the full story behind it is actually pretty sweet. Cavallari explained how it all went down to the baby registry website Cricket's Circle back in September:
We picked out this baby girl's name when I was pregnant with our first. I met a woman and her dog, and I loved her dog's name. Funny enough, it was the name she had picked out if she had a girl, but she had boys, so she used it for her dog instead. Here we are 3 1/2 years later, and we are going to use that name for our little girl!
Just hours after the baby girl's arrival on Nov. 23, Cavallari took to Instagram to let her fans know the deets:
Cavallari is already mom to 3-year-old Camden Jack and 1-year-old Jaxon Wyatt, who I'm willing to bet are super psyched to finally be welcoming a little sis into the mix. But of course, so are Cavallari and Cutler. As a source close to the couple told E! News:
Kristin and Jay are so happy! They were surrounded by friends and family. Kristin is so thrilled to welcome her new baby girl to her family! Jaxon and Camden are excited to be older brothers. She is feeling great!
Fans were, obviously, pretty psyched themselves, too: Less than an hour after posting about Saylor's arrival, Cavallari's post had racked up over 16,000 likes and hundreds of comments from well-wishers.
The former Hills star hinted at her due date just last Friday, when she posted a bump pic along with the caption "Any day now..."
But the former Laguna Beach star has been pretty open about sharing her pregnancy with fans every step of the way so far — in one gorgeous Instagram pic after the next. Like this one, snapped back in October, in which Cavallari shared just how excited she was to be welcoming Baby No. 3. "It's hard to believe I will be a mom of 3 in just a few short weeks," she wrote in the caption. "I owe so much to my babies...They have changed me in so many ways for the better."
She also took the time to show off her pregnancy style pretty much every chance she could get — and honestly, her wardrobe is pretty drool-worthy.
Yep — Cavallari's Instagram/wardrobe game is all sorts of awesome. Only to be trumped, I'm guessing, by baby Saylor's.
Image: kristincavallari/Instagram