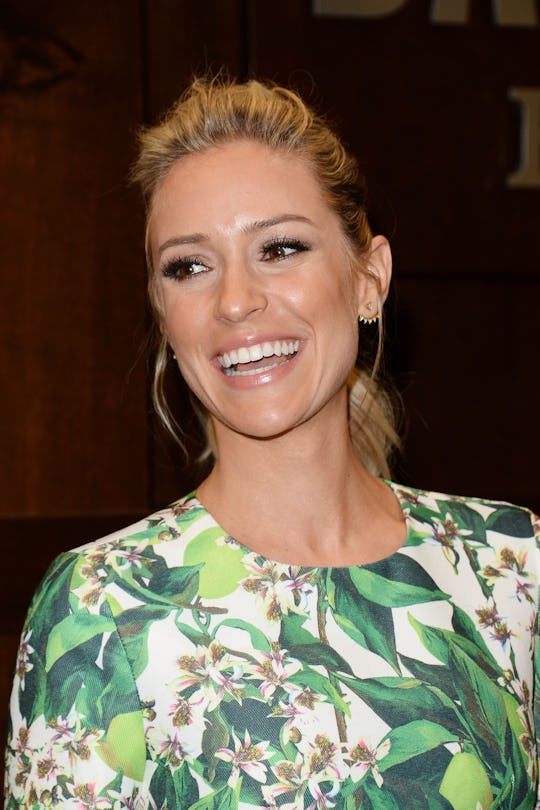 Matt Winkelmeyer/Getty Images Entertainment/Getty Images
Kristin Cavallari Is Done Having Kids & Just Wants To Focus On Her Daughter Saylor
In a recent interview with People, shoe designer and former reality TV star Kristin Cavallari said that she is done having kids and ready to enjoy some down time with her baby, 5-month-old girl Saylor. Cavallari spoke to the magazine during the release of her new jewelry line, saying that, for now, her focus is on "just trying to enjoy every second" with her youngest. With such a busy schedule, the 29-year-old mom more than deserves a little bonding time.
Cavallari is no stranger to the joys of solo time with a baby. Saylor, though the first girl in the family, is Cavallari's third baby, after older brothers Camden, who is 3, and Jaxon, who is 2. Having a girl is an experience that Cavallari said she "enjoys very much," specifying that she's very into the bows and dresses—which is no surprise, given her work as a clothing and accessories designer.
Another perk to mommying her latest, according to Cavallari, is that her little girl is an easier baby than her middle child had been. "We paid our dues with him and now we are very lucky to have such an easy girl," she said. (It's certainly not difficult to imagine that this adorable, tutu-clad infant is an angel in every way.)
Cavallari also revealed that her favorite time of day is when she rocks little Saylor to sleep before bed. "That just totally fills me up every night," she said.
Despite all the time that Cavallari has reserved for snuggles, she manages to fit a lot of other stuff in, too. Her book Balancing in Heels came out this year, and between book signings, she designs shoes for the shoe company Chinese Laundry, designs pieces for her aforementioned jewelry line, and cheers on her husband, quarterback Jay Cutler, when he's playing for the Chicago Bears.
With a schedule like that, it's good that Cavallari has a seemingly Zen attitude about motherhood. In an interview with Parents last year, Cavallari described her approach to toddler temper tantrums: "I find that what a kid really needs is a hug," she said.
That's a very generous sentiment, given the hair-pulling realities of an angry 2-year-old. For Cavallari's sake, we can only hope that baby number three will continue to be a little angel, because three toddlers at once might prove to be quite the challenge.