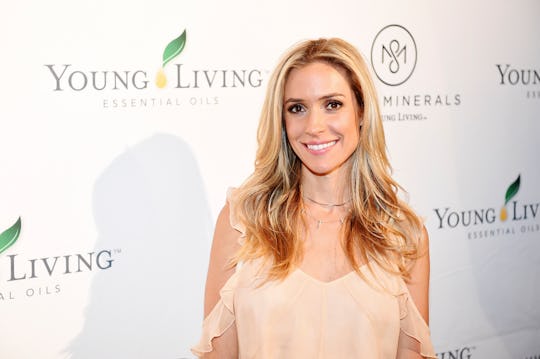 Fred Hayes/Getty Images Entertainment/Getty Images
Here's Why Kristin Cavallari Is Done Having Kids
2017 is shaping up to be a year of big changes for former Laguna Beach star Kristin Cavallari. In March, Cavallari and her husband, NFL quarterback Jay Cutler, relocated to Nashville following his release from his contract with the Chicago Bears. A month later, the 30-year-old mom of three launched a new jewelry line, and earlier this week she announced a partnership with natural makeup line Savvy Minerals by Young Living, adding yet another project to her already-busy schedule. But don't expect a pregnancy announcement to come next: in a recent interview with Us Weekly, Kristin Cavallari said she's "completely done" having kids — thanks, in part, to the fact that her children were born so close in age.
Cavallari told Us Weekly that life in Nashville has been pretty great so far for the family of five, and that she considered the city to be "a great place to raise a family." But she also told the magazine that her days of longing for more children were definitely behind her. Cavallari said,
I can't imagine having another [baby]! We had three babies in, like, four years, so the baby fever is gone. We feel like such a complete family, especially now that we have a girl. It feels so perfect, that why mess with that?
There's no question that the couple definitely has their hands full these days — Cavallari and Cutler share two sons, 4-year-old Camden and 2-year-old Jaxon, as well as 1-year-old daughter, Saylor — and it seems completely understandable that after having three kids in a short period of time, they'd feel more than ready to call it a day. But it also seems like their move to Music City has signaled a new stage in their family life — one with a bit more stability, and where they are able to start thinking long-term.
For one, Cavallari told Us Weekly that her husband's new role as a sportscaster for Fox Sports will mean that he'll be able to spend more time with his family. What's more though, according to Cavallari, is that she no longer has to worry about Cutler getting injured. She said,
It will be nice to have Jay around a lot more, and I'm excited for him to be safe from now on. He'll be doing NFL commentary, so it's a great way for him to stay involved in football without having to get hit every week.
Cavallari also revealed that while they hadn't necessarily anticipated leaving Chicago when they did, the couple had actually always planned on moving to Nashville one day. In an interview with People ahead of the move, Cavallari said that she and Cutler "always knew this day was coming," and recently revealed to Us Weekly that they'd actually purchased their current home six years ago, as they'd intended on settling down in Tennessee after Cutler's football-playing days were over. Unsurprisingly, when the time came, Cavallari told People that she was more than ready for it:
I am really looking forward to being in one place, setting up shop, getting my kids in school there. And knowing that we're going to be there for a very long time, if not forever, is a very exciting thing for me because my life is so hectic and so crazy that having a permanent home base is very comforting to me.
She may be done having babies herself, but now that a number of her former Laguna Beach and The Hills castmates are preparing to welcome little ones of their own, it seems only natural that they might be looking to Cavallari for advice. In an interview with Elle, she revealed that both Audrina Patridge and Heidi Montag have reached out to her in the past to discuss motherhood, but Cavallari said that if there's one thing she's learned from having kids, it's that there isn't actually much she can tell them that would be helpful:
I tell them that I can't actually tell them 'mom stuff,' because every baby is so different. Nobody can tell you how to be a mom, that's the thing. You can get advice from everyone, but in the end, they don't know your family or your kid the way you do. So you've got to trust yourself and believe your instincts. And you can't worry about all the noise.
As a mom of three little ones, there's no question that Cavallari could likely pass on tons of practical tips to her pregnant friends about pretty much every aspect of parenthood. But by reminding them that, actually, they will be much better off just taking it as it comes, she's definitely passing on valuable wisdom that every nervous new parent probably needs to hear at least once.
It's not always easy for couples to know when they're ready to stop trying for more children, but in Cavallari's case, it sounds like she and Cutler are definitely on the same page. It also sounds like they are really looking forward to their future in Nashville — one that will no doubt include much more time together as a family, not to mention fewer dirty diapers and middle-of-the-night feedings.