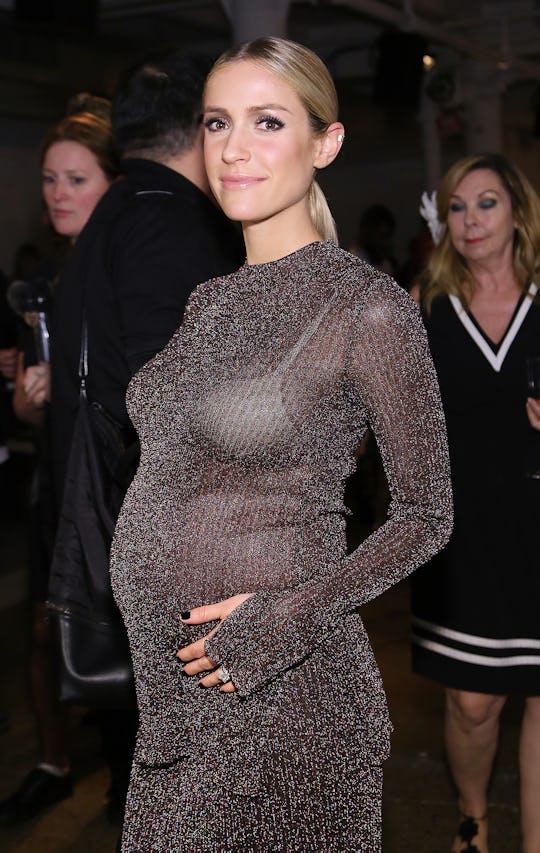 Monica Schipper/Getty Images Entertainment/Getty Images
Kristin Cavallari Shares A Photo Of Herself Pumping Breast Milk & It Is Amazing
It appears former Laguna Beach star Kristin Cavallari is stirring the proverbial pot again, but she is not doing so with controversial remarks — about things like vaccinations or goats-milk infant formula. Instead, people are arguing over a photo showing Cavallari pumping breastmilk for her 4-month-old daughter, Saylor. But Cavallari isn't doing something racy, crazy, vulgar, or obscene. She's actually doing something beautiful, powerful, and just downright normal.
On Tuesday, the former reality TV star posted an image on her Instagram. At first glance, the pic seems to show Cavallari (who is wearing an adorable, and sexy, little black dress and stiletto heels) kicking back and taking a break while on tour for the release of her book, Balancing in Heels: My Journey to Health, Happiness, and Making it all Work. But, upon closer inspection, it becomes apparent that Cavallari is holding a breast shield and bottle because Cavallari is pumping breast milk. Or, as Cavallari said:
The glamorous side of the #BalancinginHeels #BookTour.
While many comments have been appreciative and supportive — "rock on, sister" sort of stuff, in addition to thanks for her helping to normalize the breast, and breastfeeding — that doesn't mean the image wasn't met without controversy. Some Instragrammers were quick to point out that no normal woman looks that way while breastfeeding or pumping, and others were clearly offended. The comments ranged from "no" and "no way" to the "see no evil" monkey emoticon. But one user, juliehowe, directly addressed fellow commenters:
For the unsupportive comments: It may not be a reflection of your life but being a mom is hard enough without the judgement of others.
Because here's the thing: no matter how they are shared, or what they show, breastfeeding photos always end in "discussion," at best, or a full-blown Internet feud, at their worst. Take the baby out of the photo and, well, "boobs" are bound to make this a heated debate. (Sigh.) But what Cavallari's pic shows is the reality many breastfeeding moms face, especially those who breastfeed and work outside the home. I mean, sure, most of us don't pump in a high-rise (or in the comfort of our hotel room, or a very private office) but we pump because we need to, because we have to, and because it is par for the breastfeeding mama course.
Mons can pretend breastfeeding and pumping doesn't happen, or they can try to cover their breasts with blankets and clothes. They can also try to relegate "feedings" to private rooms, with some employers trying to force mothers to pump in bathrooms (something Cavallari experienced herself, just three months ago). And mothers can perpetuate the believe that breasts are sexual objects. Or, everyone — mothers and people who aren't mothers — can look at photos like Cavallari's and see it for what it is: it is a photo of a woman and a mother working hard to care for, feed, and "raise her baby right." She's raising her child as she sees fit.
And that gets a huge "f*ck yeah" from me.
So, while I may not agree with all of Cavallari's parenting advice, I will say this:
Cavallari, keep doing you. Because you are making a statement, an impact, and — for good or ill — you are starting a debate. Cavallari's photo is breaking down barriers and forcing people into yet another breastfeeding discussion, which can only help moms everywhere take control.