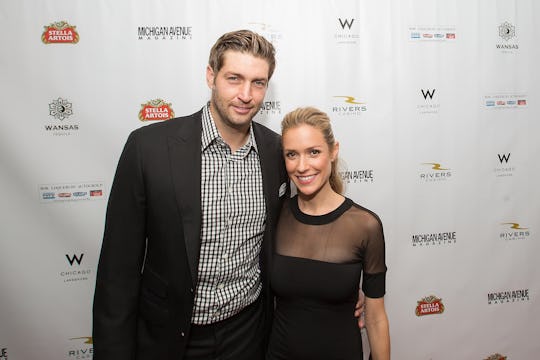 Jeff Schear/Getty Images Entertainment/Getty Images
Kristin Cavallari Won't Have Any More Children & Her Philosophy Behind The Decision Is Perfect
Though Kristin Cavallari has said some questionable things (hello, homemade infant formula!), in a recent interview with Maria Menounos, on SiriusXM's Conversations With Maria Menounos, the former Laguna Beach star said something totally merited, that made a lot of sense: Cavallari said she won't have any more children, and that she and her husband, Jay Cutler, would be taking "permanent [birth control] measures." More specifically, Cavallari said Cutler will get a vasectomy. And with three kids under three who can blame them. (I have one kid — a toddler — and when she throws tantrums, or her food, I think both my husband and I consider the "snip, snip.")
Normally, I would just read an article like this, say "cool" or "rock on," and leave it at that. I mean, vasectomies are very private — and very personal — decisions and who am I to talk about Cavallari and Cutler's choice? But the conversation shifted after Cavallari shared this information with host Menounos, who immediately joked Cutler "was not going to let" her do that "to him." (Oh lord, I thought, "not going to let?" Are we really going there? Really?) But Cavallari responded pretty powerfully with her "philosophy":
My philosophy is, we have to push the babies out. We are the ones who have to go through everything. So you can do one little thing and get snipped...[I've] pushed three babies out the old hoo-ha. I've done enough.
The truth is Cavallari is right: pregnancy is hard, childbirth is hard, and she has done enough (and more power to you, girl). But what isn't right is the implication — by Menounos, not Cavallari — that a man needs incentive to have this procedure done, or needs to be swayed to have this procedure done. Because, while I am sure no self-identifying man wants someone to "have my balls" — thanks Menounos — I do think men have brains of their own. I do think men care about the women in their lives, and I think men care enough to have open, honest, and educated conversations about these matters to weigh the pros and cons and arrive at a decision that is best for all parties.
Through dialogue that isn't charged by hyper-masculinity and phrases like "have my balls," partners can be responsible adults and weigh things like effectiveness and risk factors: vasectomies are relatively simple and safe, and the risks, of infection and bleeding, are low. They are also 99 percent effective, according to WebMD. Tubal ligations, however, are less safe, and there are several risks and side effects women can experience, like bleeding, infection, damage to other organs, and ectopic pregnancy (when an egg is fertilized and implanted in your fallopian tube).
So kudos Cavallari — and good luck, Cutler — for doing what is best for you both and your family.