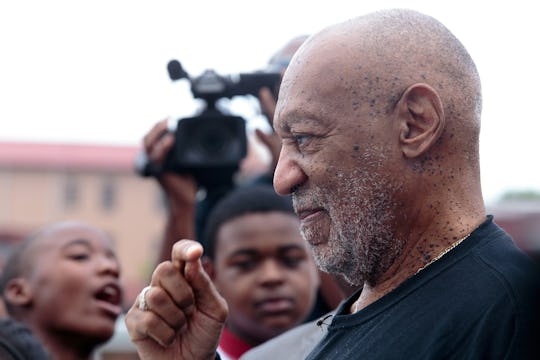 David A. Smith/Getty Images
Kristina Ruehli, Bill Cosby Accuser, Sues Comedian For Defamation, Claiming She Was Called A "Fanciful" Liar For Telling Her Story
One of the original 13 accusers to step forward and bravely testify against comedian Bill Cosby in court, Kristina Ruehli, is suing Cosby for defamation, The Daily News reported Tuesday. Ruehli, who is now 72, claims that during an alleged encounter with the disgraced comedian some 50 years ago, Cosby both drugged and sexually assaulted her. But she is suing the former Cosby Show star for allegedly calling her a "fanciful" liar after she testified. Romper's requests for comment to Cosby's representation went unanswered as of Tuesday. 
Ruehli's story reads like so many others we've heard by now. Ruehli claims she was a 22-year-old working as a secretary at a talent agency back in 1965 when she received an exciting invitation: she was asked to attend a party at Bill Cosby's swanky California home. But when she arrived, at 10 p.m., Ruehli claims she was shocked to find the house mostly empty. Cosby allegedly offered her a drink, which she accepted, before showing her to a bedroom nearby. Inside, she claims, was his baby, sound asleep. What Ruehli claims happened next is a sadly familiar script by now: She blacked out, only to wake again to find Cosby over her, allegedly naked and forcing his penis into her mouth. The year was 1965 — Ruehli would keep her story to herself, at least publicly, for five more decades. 
However, once she did step forward, the response from Cosby's camp was more than disheartening. Though she first relayed her account under oath in 2005, during the court case of another accuser, Andrea Constand, Ruehli described her story in depth to Philadelphia Magazine last year. But as Buzzfeed reports, it was following that interview that Ruehli claims she was verbally attacked by Cosby's agents and branded a "fanciful" liar. From Ruehli's suit: 
It is one thing for an accused sexual assailant to remain silent and allow the legal process, or public opinion, to run its course, but it is quite another for him to unleash his agents to deny that he attacked (Ruehli) and other women, to invite others to republish his statements, and to brand them as unreliable liars.
Cosby's legal team has yet to respond publicly to Ruehli's suit. Earlier this summer, the New York Times released a transcript of a deposition given for Constand's suit in which the comedian did in fact admit to giving several young women Quaaludes before sex.
Image: David A. Smith/Getty Images