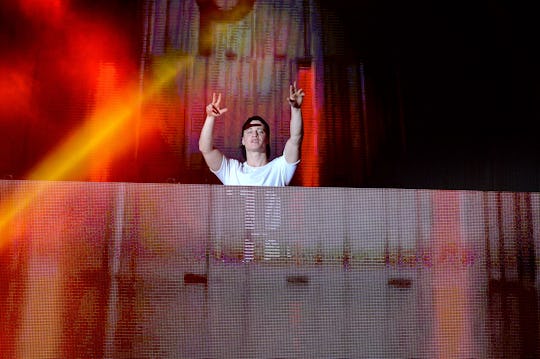 Jason Koerner/Getty Images Entertainment/Getty Images
Kygo & Julia Michaels' Closing Ceremony Performance Was Amazing
Sunday night marked the end of the weird, wild ride that was the 2016 Olympics in Rio, making sports fans around the world shed a tear or two. However, every cloud has a silver lining, and even the end of the Olympic Games had its bright side: namely, Kygo and Julia Michaels' closing ceremony performance. With this concert capping off the year of Kygo (and yes, that's the official term I'm going with to describe this Norwegian producer's mind-blowing recent successes) and vocalist Julia Michaels' smooth lyrics, the performance was a definite highlight of the closing ceremony.
The duo hit the stage on Sunday evening to perform "Carry Me," a track off of Kygo's popular 2016 album Cloud Nine. The song was co-written by Michaels, whose suave writing has earned her songwriting credits on titles by Fifth Harmony, Gwen Stefani, Rita Ora, Hailee Steinfeld, Selena Gomez, ZEDD, Britney Spears, and Justin Bieber. (I'll spare you a longer list of names, but she's worked with many impressive folks who are killing it in the music industry — and she's only 22.)
The performance, which featured plenty of neon lights and a backdrop video of dancing athletes, was the official kickoff for the new Olympic Channel, a new digital platform that will showcase all Olympics, all year long. They'll cover moments new and old, and keep fans in the loop about upcoming Olympics (Tokyo 2020, why do you feel so far away?).
In the week leading up to his Rio performance, Kygo called playing at the Olympics "the biggest performance" of his life, according to Billboard, and said,
The opportunity to be a part of the Closing Ceremony of the Olympic Games in Rio is a huge milestone in my career. ... I've been a sports fan forever, and to be able to combine this with my music and help launch something like the Olympic Channel is a dream come true.
Kygo and Michaels definitely played like it was the biggest performance of their lifetimes, and fans noticed:
For those who want to continue relishing this match made in heaven (i.e., Kygo and the Olympics), never fear. "Kygo and his music will be an important element of the Olympic Channel," Mark Parkman, the Olympic Channel's general manager, said.
I don't know about you, but to me that sounds like Kygo will spend the next for years carrying us on and on and on, back to where we started from (ahem, the 2016 Olympics). And after that exhilarating closing ceremony performance he and Michaels delivered, I'm totally OK with that.