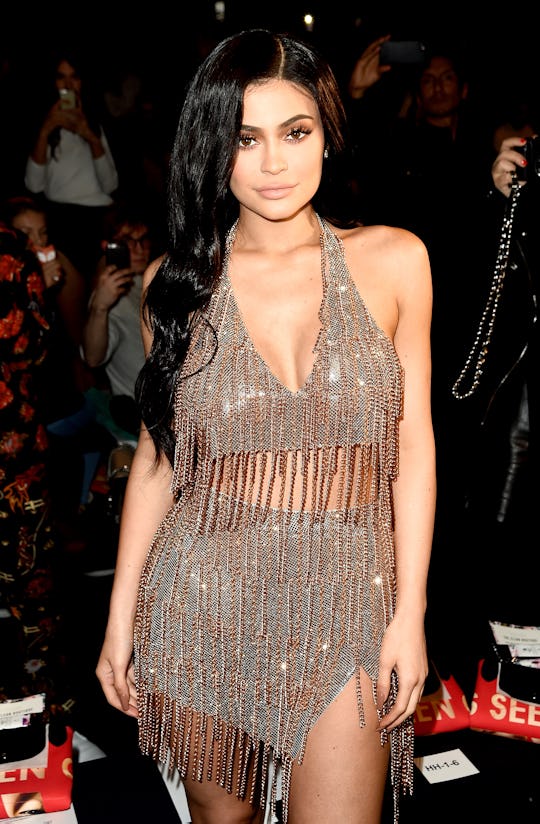 Nicholas Hunt/Getty Images Entertainment/Getty Images
Kylie Jenner Advocated Using Waist Trainers To "Snap Back" Post-Baby, & People Are Pissed
Baby Stormi Webster may not even yet be two months old, but that hasn't stopped her mom, Kylie Jenner, from setting her sights onto fitting back in her pre-pregnancy jeans. And, while I personally can't relate to that feeling — I was in no hurry to give up maternity pants after my twins came into the world — it isn't exactly surprising that the 20-year-old reality star might be looking to magically revert to her pre-baby body as soon as possible. The problem? She also happens to be advertising it on social media. Kylie Jenner advocated using waist trainers to "snap back" post-baby, and her followers aren't exactly here for it.
The new mom and beauty mogul may have kept a majorly low profile during her pregnancy, but these days, she's pretty much back to her regular social media routine. Earlier this month, Jenner posted an Instagram mirror selfie before attending Tristan Thompson's 30th birthday party, and in it she showed off her post-baby bod in a black cropped top and high-waisted pants, along with the caption, "back at it." Then, on Tuesday, she posted another bathroom selfie, this time of herself wearing a waist trainer from Waist Gang Society, according to Cosmopolitan. In the sponsored post, Jenner wrote that the company "has the BEST quality snap back products," and urged her followers to purchase their own "snap back package" at a discount using the promotional code, "Kylie."
It's definitely not the first time that one of the KarJenner sisters has used their social media platform to promote a product in a sponsored post, and it's also definitely not the first time that the ladies have endorsed the practice of waist training. Kim, Khloe, and Kourtney Kardashian have all been extolling the virtues of Waist Gang Society waist trainers on Instagram since as far back as 2014, and Jenner herself has been wearing waist trainers on Instagram long before she ever became a mom:
In fact, the same day that Jenner posted her latest waist training selfie, Waist Gang Society also shared a variety of Jenner's earlier waist training selfies in a post promoting its "postpartum snap back bundle," which includes a postpartum sweat belt (described as "perfectly aggressive and comfortable," which are words I wouldn't have necessarily ever put together), slimming cold gel, a cellulite and toning glove, waist tox tea, and water shed pills (which the company claims will "help you control those inconsistent water pounds," as unsettling as that sounds). ‌
But as much as the Waist Gang Society might be banking on Jenner's endorsement to support its brand, it seems the post actually left a lot of fans unimpressed: ‌
So is there really any value to using a waist trainer postpartum? Probably not. While the idea behind postpartum wraps, corsets, and trainers generally seems to be that they can help shrink your uterus and help with water retention (aka the reason why your immediate post-baby body might seem so shockingly different than you may have expected it to be after your baby was born), California-based OB-GYN Dr. Sherry Ross told Parents that those claims are "in no way medically proven," and that, well, your body will naturally take care of the built-up fluid and the uterine shrinking in about six weeks whether you wrap your waist or not. Waist Gang Society did not immediately respond to Romper's request for comment regarding efficacy of its products.
At the same time, postpartum belly wraps (which aren't necessarily the same as waist trainers) may still have some value. OB-GYN Dr. Jay Goldberg explained to WebMD that abdominal binders are often prescribed after tummy tuck surgeries, for example, and that wraps that offer gentle compression (keyword: gentle) may help provide postpartum women with extra abdominal support (something which may be especially helpful after a C-Section, for example).
In other words, if the idea of wrapping your abdomen postpartum like Kylie Jenner appeals to you for comfort or support reasons, and wearing it while your body goes through it's natural recovery process doesn't feel uncomfortable, then there probably isn't anything wrong with that. But if you're squeezing yourself into a Kardashian-endorsed waist trainer in the hopes that it will somehow transform your body into looking like someone who has never given birth before? You might want to save your money (and, let's face it, probably your sanity).
Check out Romper's new video series, Bearing The Motherload, where disagreeing parents from different sides of an issue sit down with a mediator and talk about how to support (and not judge) each other's parenting perspectives. New episodes air Mondays on Facebook.