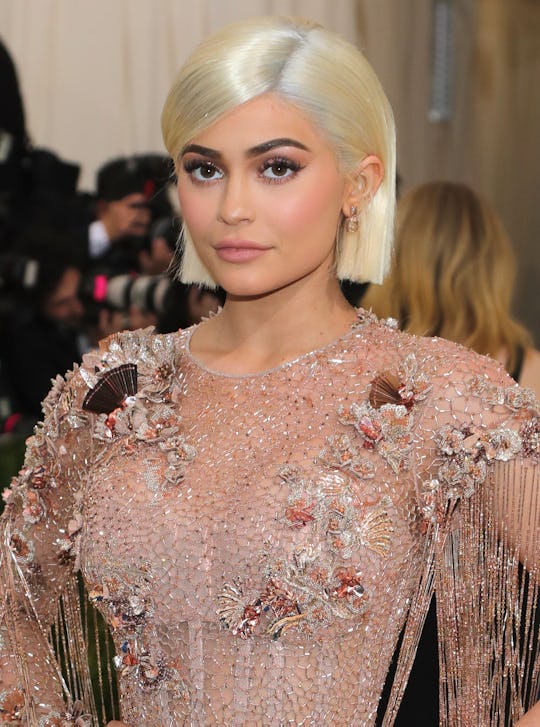 Neilson Barnard/Getty Images Entertainment/Getty Images
These Kylie Jenner Baby Name Clues Will Tide You Over Until The Big Reveal
Just when you thought maybe it was in your head this entire time, Kylie Jenner confirmed all of our suspicions by announcing the birth of her baby girl. And while she provided a very sweet message to fans on Instagram, explaining why she had kept her pregnancy a secret, she has yet to reveal the child's name. So, of course, Kylie Jenner baby name rumors have started spreading throughout social media as people try desperately to guess what this precious new addition to the family will be called.
Update: On Feb. 6, Jenner revealed that her daughter's full name is Stormi Webster in the most-liked Instagram of all time.
Earlier: Naturally, the first instinct for many fans is to assume that the name will start with a "K" considering how much the Kardashians and Jenners love that particular letter of the alphabet. However, if you look at some of the other children in the family — like Kim's three children: North, Saint, and Chicago — it's clear that the pattern has skipped the next generation, which leaves numerous possibilities open as to what the baby's name could be. But, of course, that didn't stop Twitter from making a few guesses on the matter. So until the name is officially confirmed, check out what clues the rumor mill has come up with thus far.
Some Are Really Stuck On The "K" Name Train
I mean, just because her siblings decided not to keep the "K" name going for their kids doesn't mean Kylie will necessarily follow suit. She could very well end up going with a "K" name, and if I'm being perfectly honest with myself, I don't hate the name Kiwi. Just throwing that out there.
Others Are All About Branding
Again, this could be a genius idea and I'm not exactly opposed to it. After all, this family knows how to handle their brand and are extremely business savvy, so it's not entirely out of the question. But, of course, this is all just speculation at this point.
Butterfly
One of the more popular guesses I've seen circulating out there centers around the name Butterfly. Many are confident this is what the baby's name will be. This is partially because of how much Kylie and Travis Scott seem to love this particular insect. They even got matching butterfly tattoos back in June of 2017.
Could this have been a sign of what they'd want to name their daughter? Anything is possible at this point, though it is possible to like something and not want to name your child after it. So who's the say? We won't know for sure until they tell us. But the name is pretty adorable, I must say.
Some Believe The Super Bowl Will Decide
As you know, in just a few hours the New England Patriots will go up against the Philadelphia Eagles in the Super Bowl. Will the victor of the night be who Kylie names her baby after? That would certainly be... interesting, so I suppose we can't rule it out.
Some Think The Name Will Be A Location
Considering Kim's firstborn is named North, it would be somewhat fitting, I guess, for her cousin to be named South.
Kylie's Instagram message about the birth of her daughter didn't reveal the child's name, however, one thing was very clear from the social media post — she's extremely happy. So if she isn't ready to divulge the name just yet, then that's entirely her right. Just give her a little time and I'm sure she'll open up more and more about the details of her newborn in due course.
In the meantime, let's just be happy for her and the fact that both Kylie and the baby are doing great.
Check out Romper's new video series, Romper's Doula Diaries:
Watch full episodes of Romper's Doula Diaries on Facebook Watch.