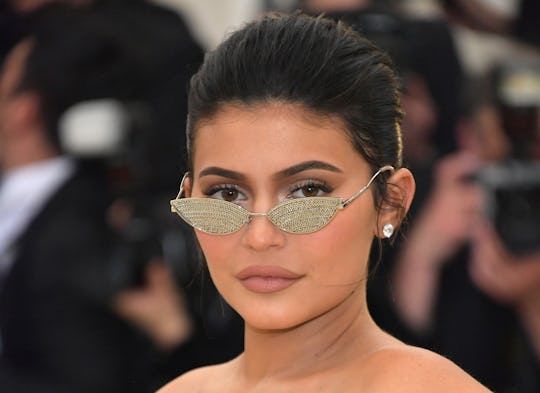 Neilson Barnard/Getty Images Entertainment/Getty Images
Yes, Kylie Jenner Really Did Rock A $6k Headband For H er 21st Birthday
What did you do when you turned 21? Did you visit your first casino, go club hopping, or maybe a bar crawl? Wear a sash or a goofy t-shirt advertising your milestone? Eat cake? Girl, that is so basic. At least, that's what I'm gathering from Kylie Jenner's $6K birthday party favor. Yes, that's a "K" after the 6, as in thousand, as in she did not get her feathered "Party Animal" headband at Party City, so don't bother trying to recreate the look for less than the price of a 2010 Honda Civic. Side note: do you think Jenner even knows what a Honda Civic is? Could she identify one on the street? Probably not, but then again, I can't tell the difference between a Ferrari and a Lamborghini, while she owns several. Several.
In honor of the day she finally became an adult (who already owns her own home, runs a business, and has a 6-month-old child), Jenner also launched a celebratory makeup line, as one does. The Kylie Cosmetics by Kylie Jenner Birthday Collection Bundle includes an eyeshadow palette in 21 shades (get it?), three tubes of eye glitter, six lipsticks, five liquid lipsticks, six mini liquid lipsticks, three lip liners, one lip gloss, one pressed powder, and a makeup bag. It costs $415 and it was launched on Monday evening, four days before her actual birthday, selling out in less than a day.
I'm no stranger to paying top dollar for makeup, although I admit I was well into my 30s before I finally realized that Sephora is far superior to the grocery store. But who needs 20 different shades for their lips, and even more for their eyes? I don't even use all 12 shades on my Naked Palette. Should I be switching it up more, or are these meant to be shared with a friend or family member who has a completely different skin tone? You do you, Kylie Cosmetics fans, and I'll just be over here thinking that a smokey eye featuring six different colors is super ambitious.
But let's talk about the headband some more, shall we? Theoretically, Jenner can wear the "Party Animal" headband more than once; it's not as though it bears her age, or even specifically refers to birthdays at all. She could wear it to someone else's birthday party. She could wear it during her bachelorette party, if she ever settles down. She could wear it while being paid hundreds of thousands of dollars to visit a nightclub, now that she's old enough to get into one in the United States. She could wear it while having an underwear slumber party, which is something that she actually does for fun, not just to promote her makeup line or fuel creepy adolescent fantasies. Any time is a good time to party, if you're Kylie Jenner!
The pile of feathers and rhinestones atop Jenner's head, which one could probably recreate with less than $20 worth of crafting supplies from Michael's, if one were so inclined, is the result of a collaboration between Alexander Wang, a designer so famous that even I sort of recognize his name, and Stephen Jones, a British milliner (that's "mad hatter" to my fellow Americans). According to his website, Jones' work has adorned such famous craniums as those belonging to Boy George and Princess Diana. And now, of course, Kylie Jenner's.
If you, too, are a party animal with an abundance of liquid assets, you can grab your own designer party hat, but you'll have to visit New York or London; it's not sold online. Like the look, but not the slogan? No problem! It's also available with phrases like "Secret Location," "After After Party," and "Wang Over." And each one is custom made to order, so for an extra grand or two, you can probably get one that says anything you want, like "This Cost More Than My TV" or "I Could Have Donated To Charity, But Nah." Happy birthday to a person I will never, ever relate to, and please, never stop being you.