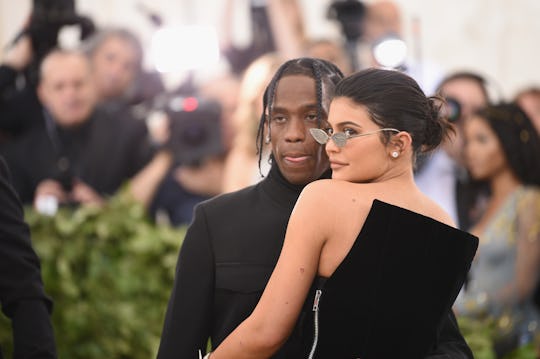 Jason Kempin/Getty Images Entertainment/Getty Images
Kylie Jenner Is Calling Major BS On The Alleged Kardashian Curse
If you've never heard of the "Kardashian curse" before, then allow me to clue you in. Apparently, there's a widely-held belief by fans and some KarJenner exes that any man who dates a KarJenner sister is automatically cursed — as in their lives basically go downhill during and after the relationship. (Scott Disick and Lamar Odom: case and point.) But does this apply to all of the sisters' exes? And is it an actual thing? Although other KarJenner siblings have challenged the idea in the past, not all of them have addressed it publicly. In a recent interview with GQ magazine, however, Kylie Jenner dismisses the Kardashian curse. And she's so right.
On Tuesday, GQ magazine's cover story featuring Kylie Jenner and her boyfriend/the father of her child, Travis Scott, made waves when it was published online. Along with talking about their normally private relationship and daughter together, Stormi, the power couple both addressed the concept of the Kardashian curse, People reported. As it turns out, Travis Scott doesn't seem to be worried at all. "I don't even be looking at motherf*ckers. I don't be looking at sh*t," the rapper said in a recent interview with GQ. "Kylie actually likes me for me." When the interviewer asked if he was nervous at all about the prospect, Scott replied, "Man, hell nah. Nervous for what? I'm on my own island. So hey, come over there to Astroworld. I'm not into all the other sh*t. I don't get involved. I'm over here. Kylie is different."
Jenner also dismissed the idea of the Kardashian curse during this same interview, W magazine reported. When the GQ interviewer theorized that perhaps it's just "extremely difficult to fly this close to the sun" and that these men weren't "built for this level of celebrity," Jenner agreed wholeheartedly. "That's exactly what it is," she said. "They come and can't handle it."
So let's take a look at the history of such a curse, shall we? As E! Online reported, a 2016 Keeping Up with the Kardashians episode featured Kourtney Kardashian's ex-husband, Scott Disick paying a visit to a spiritual medium. The reason? He suspected he'd fallen victim to the dreaded Kardashian curse. "The cards talk about a load of negative energy that's been going on," the psychic explained. "In the center of the spread comes up the devil card, which means there's definitely an energy that's been following you around. It says everything you try to do, you have a tendency to have many obstacles in front of you. So to answer your question, I would probably say you do have a curse."
Creepy, right? In order to free himself of this supposed curse, Disick was instructed to make an offering of a rooster, during which he sets the rooster free while dressed in white. "The rooster carries what you have. It sets you free as you set him free." Well, okay then. Whatever floats your boat.
During this same KUWTK episode, Kourtney Kardashian seems extremely perplexed by the idea. "A Kardashian curse? It's not real," she said. "I'm so offended," Kim Kardashian reacted. "He never wants to take like accountability for his own actions. He always wants to put the blame on someone else." As Kylie Jenner explained at the time, "The Kardashian curse is every male figure that comes and dates a Kardashian, their life kind of just goes downhill after that," Hollywood Life reported.
Jenner went on to explain how she helps make sure Scott doesn't get burned out from the KarJenner spotlight — and particularly the scrutiny.
"Well, for all the news stories, it's how I get over them so fast," Jenner told GQ. "Trav, for example, he's like, 'Wait... but how do you just get over this?' He gets more angry about things." She continued:
It's not just him. It's Jordyn [Kylie's best friend] who I've seen affected. It's everyone around us that aren't used to it. And we're just like, 'Oh, that'll go away in a day.' I know these stories aren't going to matter, so don't even let them affect you, you know?
You know, Kylie Jenner's take on the "Kardashian curse" makes complete sense to me. I can't even begin to imagine what it's like to be as famous as her family, but I would imagine the intense criticism/fake stories that come out about the Kar-Jenners on a regular basis would be overwhelming for rookies. It's probably all too easy to allow this negative attention get under their skin. So acting as sort of an emotional buffer between these news stories and Scott seems like it would be a smart move. While it's difficult to say for sure if the dreaded Kardashian curse has any validity — or if it will ultimately affect Scott, it's clear he and Jenner are incredibly in love for the time being. And for the time being, at least, the Kardashian curse is the last thing on their minds.