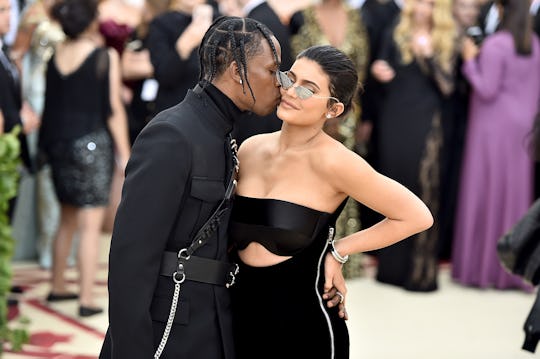 Theo Wargo/Getty Images Entertainment/Getty Images
Every Couple Should Read How Kylie Jenner & Travis Scott Work Through Fights
When I was first engaged to my husband, my grandmother gave me some great advice about making our relationship last. She said that it doesn't matter when we fight, but how we fight. What she meant was that fights are inevitable, but conflict resolution is not. That advice has served me — and many other couples — well. In a recent interview, Kylie Jenner got real about fighting with Travis Scott and the romantic ways they work things out in their relationship.
Jenner and Scott share a child together, baby Stormi, who was born on Feb. 1, 2018. Amidst rumors of breaking up and the chaos that comes with raising a child, the two appear to be going strong. In a recent interview with GQ, the two shared a bit of background on how they got together, what their dates look like, and how they get through the tough times.
When responding to the question, "When was the last time you cried?" Jenner told GQ that it was just the day before. Why? "Me and Travis got in a little fight. Which is normal. So I was just crying because I was just overwhelmed," she said. "It wasn't even about anything really specific. I was just overwhelmed. And then we made up an hour later. I just flew to Houston to see him for a few hours." That time together was crucial for the couple to work through the issue.
In the same interview, Jenner explained that she knew she had to get to Scott right away when they were fighting. She didn't take the time to explain to anyone where she was going or why; she just took off. She also explained to her interviewer the source of much of their conflict, and it is one that parents of young children and those in long-distance relationships will likely recognize:
Just because we're a family now. When we fight, it's usually just because we've been away from each other for too long and we didn't see each other for like two weeks. And we have Stormi now, and I can't travel with her. She's too young. So it's harder to see each other, but I was like, I just need to go and fix this and go back.
Jenner's instinct to "fix" it and go to Scott was spot on when it comes to strengthening their relationship. A 2010 study of fights and relationships, published in the Journal of Marriage and Family found that when partners engage in "constructive behaviors," such as discussing their problems and actively listening to one another, they are less likely to split up, according to NBC News. However, those who showed "destructive behaviors," like just yelling and storming off, were more likely to separate.
When she told GQ that it was "normal," for her and Scott to fight, she was right again. In fact, relationship expert and published author of the book What About Me? Stop Selfishness From Ruining Your Relationship Dr. Jane Greer told Women's Health that healthy and constructive arguments can be good for a relationship:
Fighting is good and productive because it clears the emotional channels of frustration, resentment, and anger, which can lead to behaviors that create conflict. Don't shy away from the subject because you're afraid of having an argument; otherwise, you'll end up feeling resentful and critical later on.
As they continue to grow in their relationship and look after baby Stormi, the skills that Jenner and Scott have grown together will greatly help them get through the rough patches that will inevitably come. My grandma would be so proud.