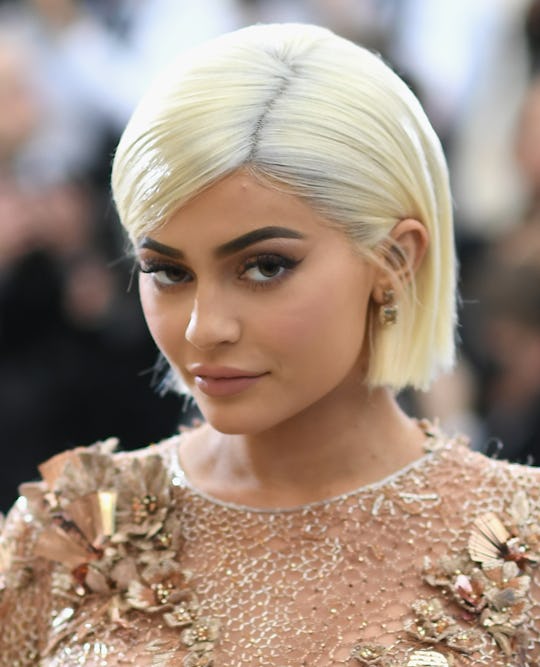 Dimitrios Kambouris/Getty Images Entertainment/Getty Images
Kylie Jenner Gives Birth & You Won't Believe How She Revealed It
Well, folks, the day the entire world has been waiting for has finally arrived. After literally months of waiting for even a pregnancy confirmation of the youngest Kardashian/Jenner, we finally have seen the light. Not only do we officially know that the reports about Kylie Jenner being pregnant were true, but we also know that Kylie Jenner has given birth, and sorry Kim, but the internet has practically broken in the process.
Yes, after so many grueling months just waiting for the 20-year-old to even confirm her pregnancy, the beauty mogul has given birth to a baby girl on Feb. 1, 2018. Yes, Kylie is officially a mom, and her family is all ready to support her in whatever way they can.
Which, when you think about it, is pretty spectacular. Seriously, the Kardashian family is growing at a really fast rate. Along with Kylie's new bundle of joy, her sister Khloe Kardashian is also expecting her first child with boyfriend Tristan Thompson, and her other sister, Kim Kardashian, recently welcomed her third child with husband Kanye West, via surrogate.
But now it's time for Kylie and her little girl to make it just about them for a little while. Because in a family as big, hectic, and busy as the Kardashian-Jenners, it's important for them for take things slow and just enjoy this time together with the newest member of the famous family.
As just about everyone and their grandma knows, Kylie's rumored pregnancy was announced way back in September. But, being Kylie, she kept everyone on their toes about the actual confirmation of her pregnancy until, well, now.
And she wasn't the only one of her sisters to do so. Khloé also kept fans in the dark for a while, until revealing in late December that she was indeed pregnant with her first child. While Khloé has not revealed if she is expecting a boy or a girl, at least fans have been able to emotionally come to terms with the news of her pregnancy in time for this major news.
So, now that the youngest of the Kardashian-Jenner family has officially confirmed her own happy news, the internet has gone mad, and it's kind of understandable, really.
In December, a source revealed to People that the young star of Life Of Kylie was a little apprehensive about the pregnancy. "She has expressed some concerns about giving [birth] and the recovery, but she isn't freaking out," the source said. "It seems more like first-time mom concerns." Additionally, the source also added that Kylie had already had a perfect name for her child picked out, but she wasn't ready to tell anyone just yet. "Kylie has a favorite name for her baby girl, but isn't sharing," the source continued.
And now, the Queen of the lip kit has officially given birth, and the world has the perfect little blend of Kylie and her boyfriend, Travis Scott. And as the world awaits more details, it's important to keep in mind that the youngest Kardashian-Jenner sister has a knack for keeping her fans questioning their sanity. Before she finally confirmed her pregnancy, there were about a hundred articles out there about her pregnancy, the sex of her future baby, and more.
Seriously, there have been so many headlines out there questioning if a Snapchat of Kylie holding phone cases was a pregnancy confirmation. Even the above photo of her in a blue shirt sent the media into a frenzy as many thought that it might mean she was confirming the news and telling the world that she was having a boy.
But now, the world can let out a collective exhale as Kylie Jenner has officially given birth to a healthy baby. Congrats, Kylie and Travis! You're sure to be great parents.