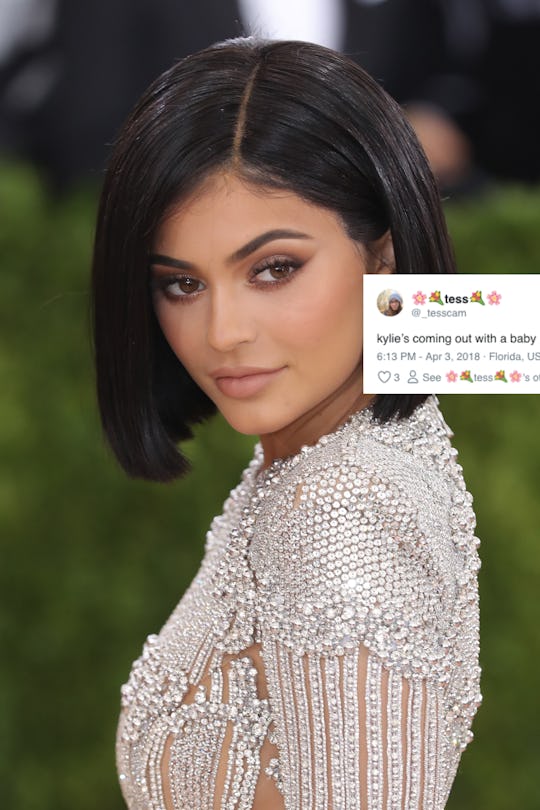 Neilson Barnard/Getty Images Entertainment/Getty Images
Fans Think Stormi Inspired Kylie Jenner's Green Lip Kit For This Hilarious (& Kinda Gross) Reason
Any new parent knows that life with a tiny infant means your days basically revolve around a seemingly never-ending cycle of bottles and diaper changes — and when you're also really sleep deprived, it honestly doesn't take long before your brain starts to go a little loopy. So after Kylie Jenner introduced a green lip kit on Instagram Tuesday, her fans started to wonder if perhaps it might actually be time for her to step away from her daughter's diaper pail. Jenner's army green shade — named "Ironic Matte" — is one of four new offerings slated for an April 10 release, according to Style Caster. But while some thought the new kit was a pretty cutting-edge choice, others just saw a really, really unfortunate comparison to baby diarrhea.
Jenner's coordinated lipstick-and-liner products have been a huge hit since she first introduced them, and though many of the shades she's released so far tend to fall in the pink, nude, or red category, she has branched out a few times to offer something a little bit different. Though Ironic Matte might be Jenner's newest statement-making shade, fans of the line already have the option of the deep violet shade, Wicked; a matte black lipstick called Nightfall; or Butternut, an orange-y brown shade described on the site as being "a warm butterscotch."
If you're a fan of those options, then chances are Jenner's Ironic green kit just seems like another trendy and super stylish option. But judging by the reaction on social media, many Kylie Cosmetics fans seemed to see it as a sign that Jenner might need to let Travis Scott fly solo with Stormi for a while so that she can take a nice, long nap.
Ironic first made an appearance on the Kylie Cosmetics Instagram page Tuesday, as part of a series of posts teasing the upcoming releases, which also include Say No More Velvet, Boss Matte, and a re-issue of the fan-favorite shade, Bare Velvet. But unlike the reaction over the three more traditional shades, opinions about Ironic were divided, to say the least.
There were many of course, who felt that Jenner's green offering was nothing less than totally swoon-worthy and iconic. One Instagram commenter, for example, felt the pick was perfectly matcha-inspired, while another wrote, "omg I've been waiting for a shade like this."
Others, though, weren't exactly quite so complimentary. One user called the pick "bile green lippy," while another said it reminded them of "snail guts." And to some, Ironic Matte simply served as proof that Jenner was getting seriously low on inspiration (as one user commented, "Guuurl she runnin outta colors").
As much as it makes sense that army green lipstick would be pretty hit or miss, some thought it was a particularly icky choice given the similarity to a few too many infant bodily functions. And Jenner's followers definitely weren't afraid to call it like they saw it:
In all fairness though, many of Jenner's fans seemed to have seen this moment coming months ago. Some felt a Stormi-inspired lip kit series was basically inevitable (though they likely envisioned something a little less diarrhea-esque), while others even felt certain that the only appropriate way for Jenner to announce her daughter's name after her birth was via her signature product:
Then again, it could actually be that Jenner was really just waiting for the perfect moment to make this prophetic tweet an actual reality:
Love it or hate it, there's no question that Jenner's Ironic Matte offering has provoked some pretty strong opinions. But given the success of all of her Kylie Cosmetic products, it also seems like anyone who feels the shade is poop-inspired may want to brace themselves, as it's entirely possible that Jenner may have just single-handedly made baby-poop lips this summer's biggest makeup trend.
Check out Romper's new video series, Romper's Doula Diaries:
Watch full episodes of Romper's Doula Diaries on Facebook Watch.