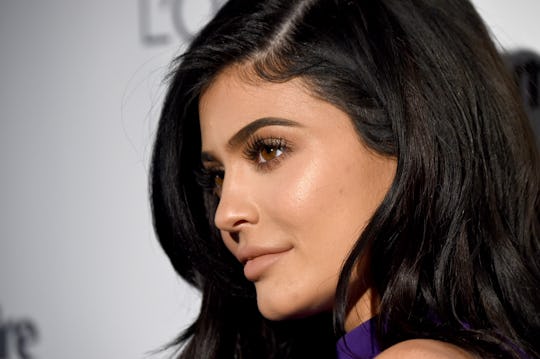 Frazer Harrison/Getty Images Entertainment/Getty Images
We Now Know The Sex Of Kylie Jenner's Baby
News of Kylie Jenner's pregnancy shook the internet like a polaroid picture last week and the public has been begging for details ever since. While the family has mostly remained hush-hush about the pregnancy, alleged inside sources are being less tight lipped: they say Kylie Jenner is having a girl. The sources also shared additional details about Jenner's pregnancy, including how far along she is. While this is admittedly a far cry from the bump pictures that everyone is waiting for, at least it's something.
TMZ first broke the news of Jenner's pregnancy with boyfriend Travis Scott on Friday, sending Twitter into a frenzy of speculation and celebration. But while the world was only just learning of the coming addition to the Kardashian-Jenner family, friends and family members reportedly knew about the pregnancy for almost two months, according to TMZ. Along with sharing the good news, Scott may have also said that the couple was having a girl, but that rumor remained unconfirmed until Tuesday. (Romper has reached out to the couple's representatives, but news of the pregnancy, when Jenner is due, and whether the baby is a boy or girl are all unconfirmed.)
Sources "close to the family" have reportedly confirmed the sex of the baby to TMZ, stating that it is, indeed a girl. These same sources also said that Kylie is around five months along in her pregnancy, which would make her due date in February.
News of the sex of the baby and Jenner's due date have fueled ongoing rumors that she is actually the surrogate mother carrying Kim Kardashian and Kanye West's third child. Kardashian and West are reportedly also expecting a baby girl in January or February, with a "twenty-something" surrogate mother, leading some people to believe that it is just too big of a coincidence for 20-year-old Jenner not to be involved. In a recent episode of Keeping Up With The Kardashians, both Kris Jenner and Kourtney Kardashian said that they would be willing to carry Kim's baby, which has some wondering whether Kylie also offered to do so off screen.
While this would make for some seriously good reality TV, it just doesn't line up with what has been said about Kylie's or the surrogate's pregnancies so far. For one thing, if Kylie were simply a surrogate for Kim, why would Travis be so excited about the baby and reportedly telling friends and family that he is going to be a father? People has also confirmed the pregnancy, with "sources" saying that the whole family is "really excited" about Kylie's first child with Scott.
There have also been quite a few details shared about Kim's surrogate mother, including that she was found via a surrogacy agency, rather than sitting across the dinner table from Kim. According to TMZ, she is a "married African-American college graduate with two children of her own" — none of which describes Kylie. It is also important to keep in mind that neither Kim nor Kylie has officially confirmed either pregnancy. This line of rational thought has not stopped Twitter from filling up with tweets about the possible connection, though.
Momager Kris Jenner has also not confirmed Kylie's pregnancy to the media. She has been playing coy when questioned about the alleged baby, telling The Cut:
I just woke up this morning. She's not confirmed anything. I think it's kind of wild that everyone is just assuming that that's just happening. Something happens every single day. You never know what is going to break at any moment.
As for Kylie's other parent, Caitlyn Jenner may have come closer to confirming the rumors. According to The Sun, one of Caitlyn's reps said this much, "All I can tell you is that it was some time ago." But Caitlyn's rep denied to Romper in an email that Caitlyn confirmed any pregnancy.
Kylie's recently low profile — including her recent absence from both New York Fashion Week and the family interview with Megyn Kelly — has led many to believe that the rumors are true. Her reposts of old, flat tummy photos have the public asking questions as well. Until an official statement is made by Kylie, Scott, or the family, the insatiable public will have to rely on the word of unnamed sources. The suspense is killing me.
Watch Romper's new video series, Romper's Doula Diaries:
Check out the entire Romper's Doula Diaries series and other videos on Facebook and the Bustle app across Apple TV, Roku, and Amazon Fire TV.