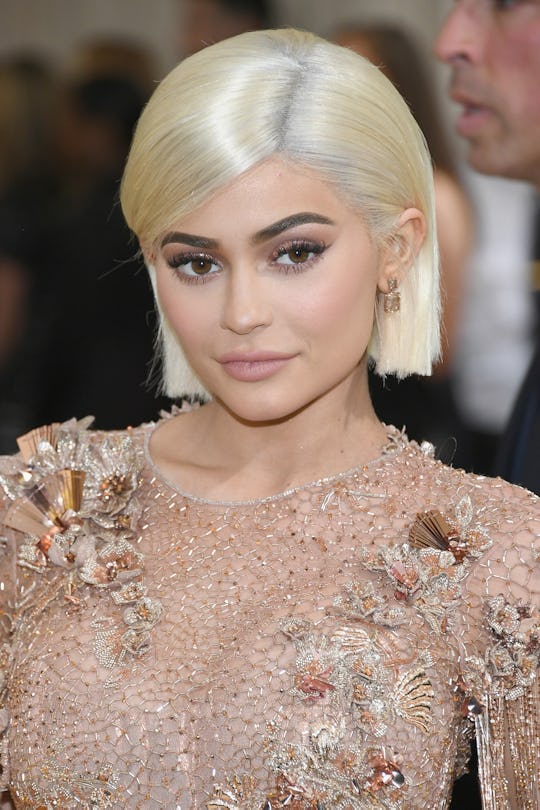 Dia Dipasupil/Getty Images Entertainment/Getty Images
Kylie Jenner Is Reportedly Pregnant, & OMG!
Kylie Jenner is many things: a reality television star, social media influencer, and beauty mogul. And now she can allegedly add expecting mother to that list. Yes, you read that right. According to TMZ, Kylie Jenner is reportedly pregnant with her boyfriend, Travis Scott's, baby, and people are rightfully freaking out because of that — including me. Romper has reached out to Jenner and Scott's representatives and are awaiting a response.
Take a minute to breathe and collect yourself, because here are the facts, as per TMZ. Jenner allegedly began telling friends that she was pregnant earlier in September, and now "multiple sources" that are close to Jenner have confirmed to TMZ that she is pregnant. Her boyfriend, Scott, has also allegedly been telling his friends that Jenner is pregnant, according to TMZ, and is reportedly saying that they're expecting a girl. Yep, that is multiple people confirming the same thing to TMZ.
People also reported the news, stating that multiple sources confirmed that Jenner is pregnant and is due in February.
I honestly have no words, you guys, but people on Twitter have plenty to say. Both fans and critics of Jenner alike took to the website to share their well wishes for her and her boyfriend, in addition to sharing some rightful skepticism. Because Jenner has not yet confirmed this news, nothing is 100 percent certain. Those same people seem to agree with that statement.
But this wouldn't be the first time in the past few months where people suspected that Jenner was pregnant. In early August, according to Hollywood Life, sources claimed that Jenner was allegedly four months pregnant with Scott's baby. If these rumors were or are true, then Jenner would be five months pregnant and into her second trimester of pregnancy. But that is all hypothetically speaking.
For the people who follow Jenner the closest, this pregnancy announcement might make sense as to why Jenner has been a little quiet these past few days. According to In Touch Weekly, Jenner was "noticeably absent" during New York Fashion Week earlier this month and has backed away on her public appearances. For as much as the 20-year-old loves Instagram (and as much as her audience loves her for loving Instagram), according to TMZ, she has been posting old photos of herself to her profile. This could very well be because she is pregnant and has been waiting to announce the news. Although as someone who doesn't follow Jenner consistently, I personally can not tell the difference between old and new photos on her profile (they all look new to me). Still, if this is true it only adds fuel to the rumors.
Jenner's family has been supportive of her relationship with Scott, according to People, liking him more than her ex-boyfriend, Tyga. Jenner and Scott even got matching tattoos around the time of her birthday last month.
It is only natural for Jenner to become a mom, eventually. Jenner has expressed in the past that she does indeed want to start a family and be a mom within a matter of time. During an episode of Keeping Up With The Kardashians in 2016, Jenner stated that she thought 25 would be a good age for her to have children, according to Us Weekly. "Every psychic has said that I am going to have two kids," Jenner said on the episode. One (allegedly) down, another to go.
And during a Snapchat question and answer session almost exactly one year ago, Jenner openly talked about having children. "I do want kids, but not right now," Jenner said, according to Life & Style.
But a lot can happen in a year. Jenner's reported pregnancy definitely proves that. I for one, can not be happier and more excited for her.
Watch Romper's new video series, Romper's Doula Diaries:
Check out the entire Romper's Doula Diaries series and other videos on Facebook and the Bustle app across Apple TV, Roku, and Amazon Fire TV.