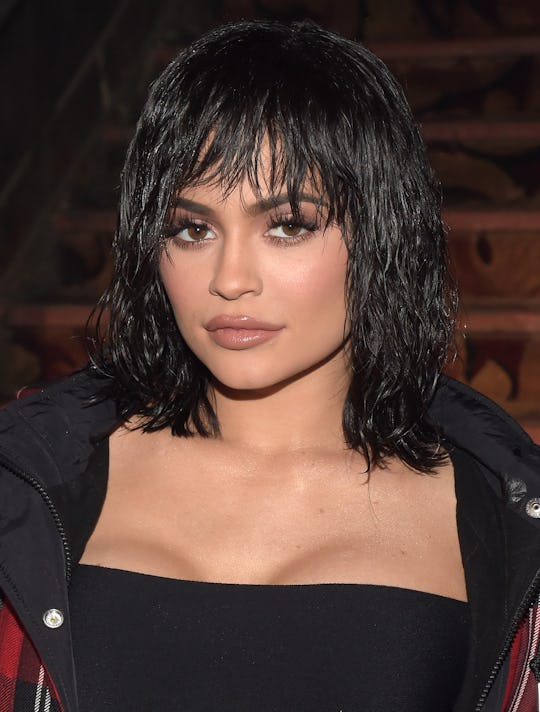 Jason Kempin/Getty Images Entertainment/Getty Images
Rumors Say Kylie Is Taking Online Classes To Prepare For Birth, But Fans Aren't Buying It
One Kardashian sister might have recently welcomed a new baby, but there's at least one other pregnancy in the family that fans are following, and yet another possible pregnancy in the KarJenner camp that is still shrouded in secrecy. No one is 100 percent sure whether Kylie Jenner is actually pregnant (except, presumably, Kylie herself, I guess), but every bit of news about a supposed pregnancy for the younger Keeping Up With the Kardashians star elicits reactions in fans and the media. The latest in possible Kylie pregnancy news is the rumor that Kylie is reportedly taking online lamaze classes.
But some people are a little confused as to why Kylie would even need to take lamaze classes at all, let alone online ones, because they're convinced that even if the pregnancy rumors are true, Kylie already gave birth. Some people even think that Kylie was the surrogate for Kim Kardashian's latest pregnancy. Since Kim and her husband, Kanye, already welcomed their new daughter, Chicago, on Jan. 15, that theory would mean that Kylie already gave birth, and has no need for lamaze classes or other preparation for an upcoming birth.
"Sources" reportedly told TMZ that Kylie has been learning Lamaze online with her best friend, Jordyn Woods, acting as her partner. The outlet suggested that Kylie is doing them online so she can have total privacy and no one will see her publicly preparing for a birth she has not even confirmed. It's important to note that the pregnancy rumors are based entirely on speculation and anonymous "sources." No one has spoken out definitively on the rumors, including Woods and Kylie's boyfriend Travis Scott. A rep for Kylie has not responded to Romper's request for comment.
In case this sounds likely an entirely foreign thing to you, Lamaze classes seek to help women "learn how to respond to pain in ways that both facilitate labor and increase comfort," according to Baby Center. And the goal of a Lamaze class is to increase a woman's confidence in their ability to give birth, according to the official Lamaze website. Some of that involves breathing, which is the stereotypical strategy associated with Lamaze, but the classes are actually meant to prepare women for labor with various techniques.
Woods has reportedly been acting as Kylie's birth coach in their Lamaze training, and she's even bought a ton of pregnancy and baby books as part of their preparation, according to TMZ. That's a pretty dedicated friend, in my opinion.
I had always thought Lamaze was something you kind of had to learn in person, but apparently not. Even the Lamaze website has a section dedicated to e-learning and online resources for pregnancy and birth, so it's not impossible that Kylie would take advantage of that option if she really is pregnant and looking to keep the whole thing entirely under wraps.
But a whole lot of people don't believe Kylie is even pregnant anymore, so she wouldn't need to take Lamaze classes any longer — with or without her friend, online or in person. Even though Kim wrote a whole piece about how she and Kanye found their gestational carrier — who has no biological relation to the baby — for their third child through an agency, there are some who are still convinced that Kylie was the surrogate all along. Despite evidence to the contrary, the rumors persist.
And even if she wasn't Kim's surrogate, other people think Kylie already gave birth to her own baby instead. There are all sorts of reasons for this — everything from photos from the fall that claim to show pregnant Kylie further along then than some speculated, to her absence from the Kardashian family Christmas card. Plus, recent confusing statements from Caitlyn Jenner about the number of grandchildren she has didn't help matters.
If Kylie is pregnant, and she already gave birth, then yea, she wouldn't really need to take Lamaze classes, whether she did them online or not. But her entire pregnancy is technically still a rumor, so we can't be any more sure that Kylie has given birth and doesn't need birthing classes than we can be sure that she's going to have a baby at all.
The bottom line is, fans will just have to wait and see what Kylie shares about her possible pregnancy and birth, if she even has anything to announce in the first place.
Check out Romper's new video series, Romper's Doula Diaries:
Watch full episodes of Romper's Doula Diaries on Facebook Watch.