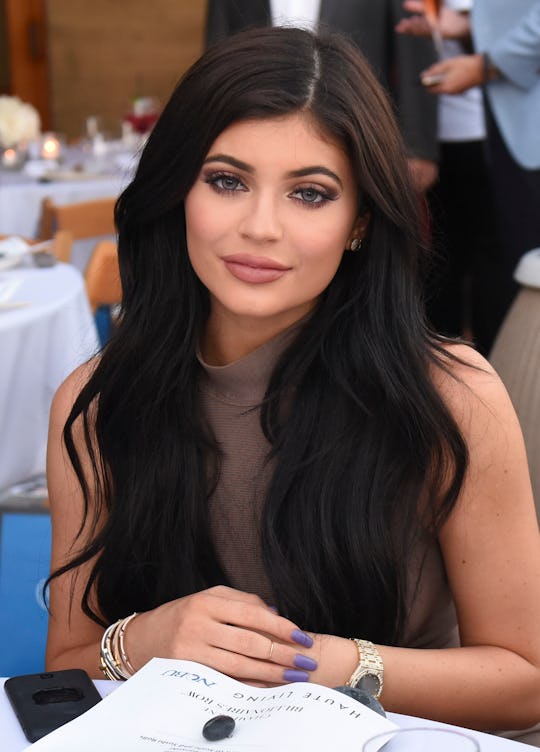 Vivien Killilea/Getty Images Entertainment/Getty Images
Kylie Jenner Plans To Give Stormi This Stunning, But Oh So Pricey Purse When She's Older
Since Kylie Jenner became a mom in February, she has not been able to stop talking about her daughter, Stormi — and for a good reason. Jenner is so in love with her little girl and wants the world to know it. So, it shouldn't come as a surprise to anyone that Jenner has already started saving things for her daughter when she gets older. In a new YouTube video, Jenner revealed that she is saving one of her purses for Stormi to have when she gets a little older and her reason could not be any sweeter.
From all of the glimpses that Jenner has given fans of Stormi, the little girl seems so invested in everything that her mom is doing — including giving some love to her mom's makeup. Because of this, it makes sense why Jenner might be saving one of her purses for Stormi. In a new video, posted to her YouTube channel, Jenner gave fans a tour of her purse closet — yes, her closet designated just for her bags.
In the video, her dozens of designer bags can be seen displayed on shelves like they would be at a store. But instead of the bags being in a store, they're in Jenner's closet and she can reach for them at any time. But Stormi might be reaching for her mom's purses a little sooner than expected.
In the video, Jenner revealed that she is saving a baby-sized pink Hermés Birkin bag to be Stormi's first purse — which also happened to be gifted to Jenner by her older sister, Kourtney Kardashian.
"Kourtney gave me this purse, which I think is super cute," Jenner said in the video. "I was really surprised because I feel like Kourtney never really cares about Christmas gifts. So, when she gave me this, it was really special."
But the purse is also special because Jenner said in the video that it will be the first purse she lets Stormi borrow when she is a little bit older. "This one, I'm definitely gonna let Stormi wear probably when she says 'Mommy, I want to carry a purse.'"
Jenner also revealed that she is going to give Stormi one of her little Louis Vuitton bags, which was given to her by her mom, Kris Jenner, when she was "a baby." Such a super sweet gesture.
Let's be real, Stormi is going to be the envy of all of her friends when she is finally old enough to share clothes with her mom and borrow items from her closet. Just look at those purses.
It already seems like Stormi has an interest in her mom's hobbies. On Tuesday, Jenner posted the cutest videos of Stormi attempting to get in to a Kylie Cosmetics makeup bag, according to People, clearly excited about the chance to make a mess or play with makeup. But if Stormi ever wants to really play with makeup, she has a lot on hand since Jenner is the founder and owner of Kylie Cosmetics. Last month, Jenner told Forbes that she would be interested in passing on the family business to Stormi "if she's into it."
But if Stormi wants to keep up with her mom's hobby of collecting purses (or if anyone wants to start a collection of their own), it might cost them. The cost of a new Birkin bag starts at just $12,000, according to Forbes, and the cost continues to grow, depending on the bag. Needless to say, it's not the kind of purse that Jenner would want her daughter spitting up on or something.
Thanks to Jenner, Stormi has all of the tools that are necessary to become a baby fashionista, just like her mama.