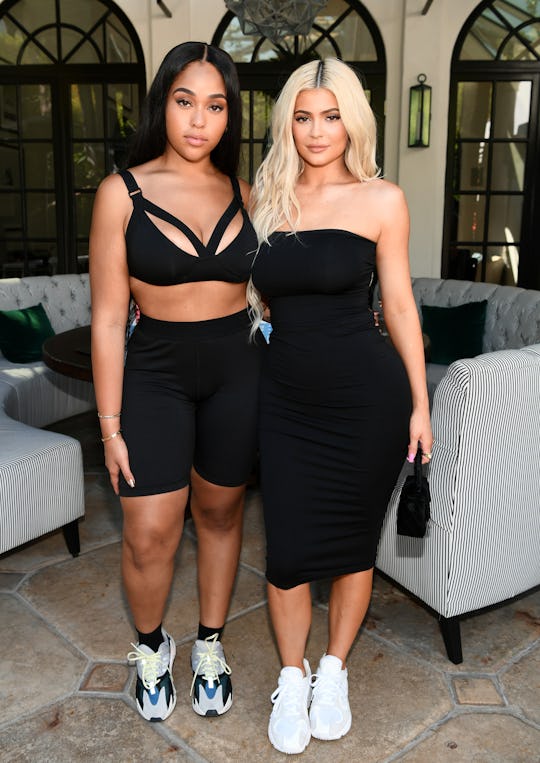 Emma McIntyre/Getty Images Entertainment/Getty Images
Kylie Jenner Is Totally Okay With How Her Body Changed Post-Pregnancy
Pregnancy and childbirth bring an onslaught of changes to every area of your life, from your finances to your sleep schedule to, of course, your body. Every woman responds to the experience of undergoing such rapid physical changes differently, but it's safe to say that the cultural stigmas around not getting "too big" or ensuring that you "bounce back" ASAP are unhelpful at best, and downright dangerous at worst. That's why it's so important that Kylie Jenner is totally okay with how her body changed post-pregnancy: it's a crucial message for women everywhere.
"Pregnancy completely changed my body at a super young age," Jenner told Glamour, on which she is the Autumn/Winter cover star. "But I really don't care." She continued: "I feel like people think that I bounced back super fast, which I guess I did... People can get the wrong idea on Instagram sometimes."
Jenner went onto explain that her body has changed a lot since she gave birth to her daughter, Stormi Webster, in February of this year, as CNN reported. Everything from her self-image to even her style choices have had to change as well. "My boobs are … three times the size, which bothers me. I have stretch marks on my boobs. My stomach isn't the same, my waist isn't the same, my butt's bigger, my thighs [are] bigger," she said. "And honestly, I'm finding I have to change my style a little because nothing in my closet fits me from before."
In the same interview, Jenner also opened up about how she copes with haters online, and why she's more motivated than ever to develop her business, as she hopes that one day, she could pass it onto her daughter if she were interested.
"So many negative things come at me all the time. Of course, it does affect me, but you develop a thick skin. Nothing has lasted so long that I haven't gotten through it, so whenever a new bad story or rumour emerges, I know it will pass, too. Everything in life is transient," she said. "I was super insecure about my lips. I really wanted the illusion of bigger lips, so I overlined mine like crazy, and then people started getting obsessed."
Obsessed people are, indeed. Back in July, Jenner appeared on the cover of Forbes, atop the title: "America's Women Billionaires." The story was about how Jenner built Kylie Cosmetics into a $900 million business in only 3 years, and how the company was slated to become a billion dollar business sooner rather than later. However, as Business Insider reported, the cover did spark a fair degree of backlash over the use of the term "self-made," as many argued her family's fame and wealth contributed to her ability to make her makeup business explode the way that it did.
But Jenner seems mostly unfazed by the criticisms, focusing instead on what's really important: parenthood. In an interview from earlier this month with Vogue Australia in which she was interviewed by sister Kendall Jenner, she opened up about how her life has changed since Stormi's birth.
"I don't think my life has changed since becoming a mom: I think the way I look at life has changed since becoming a mom," Jenner explained. "I think more of the future. I used to live each day as it came, and now I look at the future more. I actually feel like I love myself more after I had Stormi. And I'm trying to be… I mean, I'm already a positive person, but just having fun, being positive."
It's beyond clear that between her business acumen and body positivity, Jenner is a role model in her own right, even though the way she sees it, she's just trying to do the best she can for herself and her family.