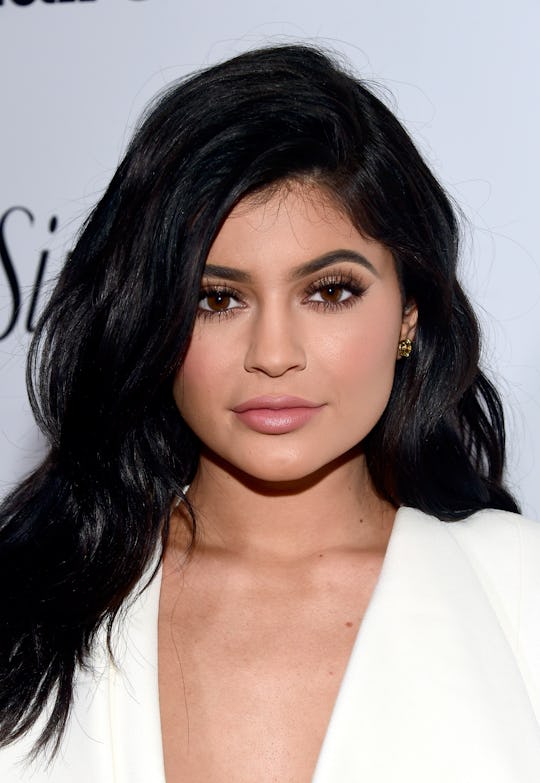 Frazer Harrison/Getty Images Entertainment/Getty Images
Kylie Jenner Just Shared Her First Photo Since Her Pregnancy Reveal & OMG
When People and TMZ reported that Kylie Jenner was expecting her first child on Friday with boyfriend rapper Travis Scott, people were shook to say the least. Although Jenner herself never confirmed or denied the news, people were still insanely excited nonetheless. But for the first time since the world lost all chill at the beginning of the weekend, Kylie Jenner just shared her first photo since her pregnancy reveal and it might have some people second guessing the news.
In the photo posted to her Instagram account, Jenner is seen posing with her friends in bathrobes, looking absolutely stunning wearing little makeup. If you were to briefly glance at the photo, you would never guess that Jenner is pregnant. But the closer you look, you do see that Jenner is hiding her stomach behind the ornate mirror and her pose does seem to show off her curves. If Jenner ever wanted to convince people that she is not pregnant, this was the way to do it.
If you were not aware of the pregnancy rumors, or had been living under a rock for the past three days, then you would never guess that she was expecting. Romper has reached out to representatives for both Jenner and Scott for comment, but has not heard back yet.
Jenner also shared another photo to her Instagram account following the robe photo, making fans even more confused than ever before. Jenner practically taunts her fans in the photo, showing just a bit of her stomach to the point where you can't tell whether she is or isn't pregnant.
Why are you doing this? Why are you torturing your fans? [Insert sobbing emoji face here.]
These photos come on the heels of Jenner's first public appearance since the news broke. According to People, Jenner was spotted in Las Vegas, Nevada where she watched Scott perform a show. Jenner, of course, was wearing baggy oversized clothes which teased fans even more. If Jenner is wearing baggy clothes to start a trend, then thousands of teenagers across the world are going to be rocking sweat pants and T-shirts in a matter of days.
In addition to her appearance on Saturday, Jenner was spotted wearing baggy clothes one week before the announcement But whether that is because she just feels like dressing down or to cover up a growing bump is really anyone's guess.
After Jenner posted the two photos to her account, fans took to Twitter to share their skepticism about whether Jenner was actually pregnant.
But these new photos of Jenner are just a little suspicious. For the past month, Jenner was only sharing old photos of herself to Instagram, according to TMZ, and new pictures of herself from the chest up. So why now? And instead of posting these photos, why couldn't she flat out deny the rumors if she wasn't pregnant?
But for all fans know, Jenner could very well be pregnant. In both photos, Jenner is perfectly posed. By now, she knows how to work the angles of her body in front of a camera, hiding and flaunting things that she does and doesn't want people to see. With the help of a little Facetune or Photoshop, Jenner could easily throw fans off. Jenner is reportedly due in February, which would make her four months pregnant. But, it's important to remember that all women show differently and Jenner could very well be pregnant, but not showing as obviously as some might imagine.
The most frustrating part about Jenner sharing these photos is that it neither confirms or denies the fact that she is pregnant. Because Jenner didn't give a flat out answer in these photos, people are still going to speculate. Jenner's "response" to the pregnancy rumors is much like her mom, Kris Jenner's response. In an interview with The Cut, just hours after the news broke, the momager remained poised and aloof when asked about the pregnancy rumors. She said, according to The Cut:
I just woke up this morning. She's not confirmed anything. I think it's kind of wild that everyone is just assuming that that's just happening. Something happens every single day. You never know what is going to break at any moment.
As to when Jenner will flat out address the rumors is anyone's guess. But the reality show that started it all and launched the careers of many — Keeping Up With The Kardashians — is airing the 10 year anniversary special tonight. And who knows, these rumors may be addressed in a more obvious way.
Watch Romper's new video series, Romper's Doula Diaries:
Check out the entire Romper's Doula Diaries series and other videos on Facebook and the Bustle app across Apple TV, Roku, and Amazon Fire TV.