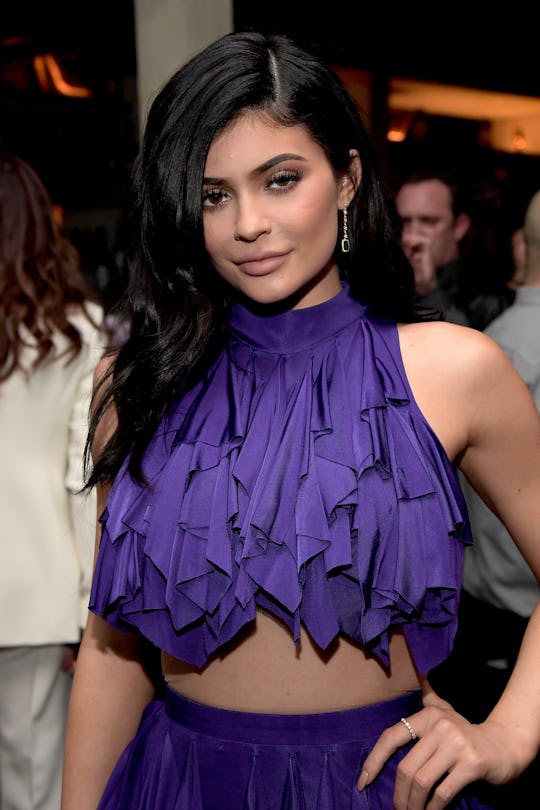 Charley Gallay/Getty Images Entertainment/Getty Images
Kylie Jenner FINALLY Revealed How She Came Up With Her Daughter Stormi's Unique Name
Almost all of Kylie Jenner's pregnancy with her newborn daughter, Stormi Webster, was shrouded in secrecy from the time that it was first reported last year. And now that Stormi is finally here, Jenner is at least making some things public knowledge — and for the first time in what feels like eternity. On Tuesday, Jenner opened up about Stormi's name and revealed where it came from for the first time.
When Jenner announced that she had given birth to her daughter with boyfriend, Travis Scott, on Feb. 1 earlier this year, people were a little shocked to say the least — and very shocked that she kept her pregnancy more or less a secret for so long. After announcing that she had given birth, Jenner posted a vlog documenting all of those moments leading up to her daughter's arrival — but didn't release her daughter's name along with it. It wasn't until until five days later, according to Vogue, when Jenner gave fans an answer that her her daughter's name is Stormi Webster.
In a new interview for Evening Standard, conducted by her older sister, Kim Kardashian, Jenner finally revealed how she picked Stormi's name and it's actually quite awesome how honest she was about the name-picking process. According to Evening Standard, she said:
I really don't know how we thought of Storm. Her dad insisted it was him, but I feel like it was me. And that kind of just stuck with us. And then I didn't really like just Storm — I didn't feel like that was her name. So then it became Stormi. And it just stuck. I feel like there were a lot of other names that I might have even liked better to be honest, but I feel like Stormi picked her own name, like it was just her name.
This is super revealing, not only because it's first time that Jenner has ever spoken about her daughter in a media setting (or her daughter's name in this capacity), but it's also one of the first times that Jenner has revealed that she and Scott chose to find out the sex of their baby ahead of time. Of course, people already knew that because of Jenner's pink-themed baby shower and the glimpses of Stormi's very pink nursery that they saw in Jenner's vlog.
This tidbit from Jenner's interview also shows that a lot of time and dedication went into picking Stormi's name — it wasn't just a way for Jenner and Scott to seem unique by picking an "offbeat" name. Jenner and Scott received a lot of criticism when they first announced Stormi's name, according to the Daily Mail. Some Twitter users called it "cruel" while others called Jenner immature for choosing a name like Stormi.
But, as it was revealed in this interview with the Evening Standard, Stormi was obviously a name that they both thought about and chose because it best suited their daughter. And there really is something so beautiful about that.
No matter Stormi's name, according to the interview with Evening Standard, it seems that Jenner could not have been more ready to become a mother. In the interview, Jenner revealed that giving birth to Stormi forced her to become less selfish and that motherhood has been super satisfying for her. Jenner said, according to the Evening Standard:
I think more about my future because of her. Every time I leave and I'm stressed about leaving her, I'm like, "I'm doing it for you." Everyone says you change completely when you become a mom, but I really feel the same, just better.
Judging from Jenner's Instagram, where she somewhat regularly shares photos of Stormi with her fans, she really could not be any happier at this point in her life. You can definitely see that motherhood has changed Jenner, and in her words, it's for the "better." "I feel like it's just been so amazing and so much fun," Jenner said, according to the Evening Standard.
Thank goodness Jenner is no longer keeping some things so secretive, because from the sounds of it (especially after this interview) she has nothing left to hide — she loves being a mom and has no regrets. It's that simple.
Check out Romper's new video series, Bearing The Motherload, where disagreeing parents from different sides of an issue sit down with a mediator and talk about how to support (and not judge) each other's parenting perspectives. New episodes air Mondays on Facebook.