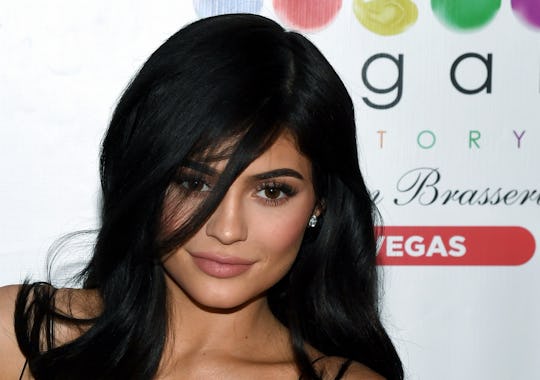 Ethan Miller/Getty Images Entertainment/Getty Images
Kylie Jenner Posted A Photo Of Stormi With BFF Jordyn Woods & It's Too Cute To Handle
Guys, the moment Kar-Jenner followers have all been waiting for has finally arrived! Oops, false alarm; no, Khloé Kardashian has not given birth yet. However, Keeping Up with the Kardashians fans will be psyched to know that Khloé's younger sister, Kylie, finally shared an image of her baby girl's face — sans a pacifier or any cute filters. (Not that those are bad things, for the record.) Yes, the Lip Kit mogul's Snapchat followers caught a glimpse of the 1-month-old's unhidden, utterly kissable face. Because Kylie Jenner posted a photo of Stormi with BFF Jordyn Woods, and it's too cute to handle.
As Cosmopolitan reported, the new mama took to Snapchat on Saturday to share a series of epic moments with her followers — and she managed to sneak in an adorable shot of Stormi Webster in the process. Jenner started off her Snapchat spree by showing off a few items in her Kylie Cosmetics collection, including various shades of lipsticks as well as Kylighters. She then proceeded to make all of her followers jealous by posting shots of her insane closet — filled with rows upon rows of drool-worthy purses and bags. And these aren't any ordinary handbags. Oh, no. These are freaking Louis Vuitton totes, Chanel handbags, and Hermes Birkins bags. Just thinking about how much money it took acquire such a collection makes me sweat. See for yourself.
Impressive, no? But just so followers could get the full experience of her extensive collection, Jenner also included a wide shot of herself inside her custom-made, walk-in closet, Us Weekly reported.
Excuse me while I pick up my jaw from the floor. Sorry, my mind simply cannot comprehend how many thousands of dollars are sitting around on these shelves.
Hidden among the shots of makeup and handbags, was a video clip of her best friend, Jordyn Woods, getting in her quota of baby Stormi snuggles. And if you're like me, it totally caught you off guard. Bonus: Fans also got a better glimpse of baby Stormi's pink and grey nursery in the process of making this cute moment.
"Can they get any cuter," Jenner captioned the sweet shot. *Answer: No, no they can't.) Those cheeks! Those perfect lips! Stormi is giving me some serious baby fever.
Now, Kylie Jenner could have stopped right there, and she still would have made her followers' day. But the cuteness only continued from there. Like this personalized sweatsuit for baby Stormi.
Not to mention the fact that Jenner shared a couple of photos from Khloé Kardashian's baby shower, ET Online, reported. "I can't wait to meet you, baby," the proud auntie captioned a photo of what is presumably Koko's pink-sequined bump.
Another shot of the glamorous, pink decor at Koko's baby shower was posted by Jenner, too. (If you want a glimpse at more amazing shots of the celebration, check out some of the photos Khloé and other guestes posted on Saturday, as E! Online reported.)
I don't know about you, but Jenner clearly had a pretty kick-@ss Saturday. Now that her big pregnancy "secret" is out in the open, fans are probably loving the fact that Jenner is back to taking them along for the ride again. I have to say, I'm certainly enjoying living vicariously through the 20-year-old, loaded reality star. How else would I be able to see what it's like to be in the midst of a small fortune's worth of handbags? Or to experience the pink-out, over-the-top baby shower of my dreams? Or to catch glimpses of the baby that was the best-kept (or worst-kept?) celebrity secret of the year?
Keep the amazing photos coming, Kylie Jenner!