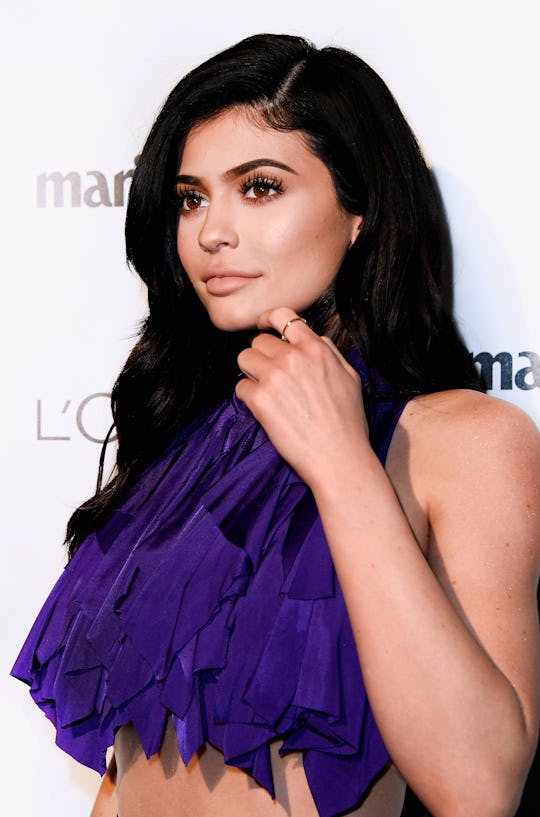 Frazer Harrison/Getty Images Entertainment/Getty Images
Here Are The Latest Updates On Kylie Jenner's Reported Pregnancy
Kylie Jenner is practically taking over the world at this point. With her widely popular lip kits, her own reality television show — alongside her family's Keeping Up With The Kardashians, which is about to premiere its new season — the 20-year-old is on track to become her generation's version of... Kim Kardashian? Well, to be honest, Jenner isn't really following in anyone else's footsteps, and that's kind of awesome, actually. Jenner is paving her own way, and with the announcement that she is now reportedly pregnant, her life is surely full, meaningful, and busy. So, while the latest Kylie Jenner pregnancy updates may not exactly be confirmed, they're certainly interesting.
Over the past week, there were three rumored Kardashian-Jenner pregnancies, none of which had been officially confirmed until Kim Kardashian tweeted out a teaser clip for the newest season of KUWTK in which she can be heard telling sister Khloe, that her and Kanye West are "having a baby."
Now, Jenner's pregnancy remains unconfirmed, although it's been discussed widely since the big reveal. Jenner — who is reportedly expecting her first child with boyfriend Travis Scott, as TMZ reported — has yet to say anything about the pregnancy rumors, although numerous anonymous sources have come forward to leak specific, unconfirmed details. Romper has reached out to both of their representatives for comment, but has not heard back at this time.
Here's what we (sort of) know so far:
Jenner Is Reportedly Having A Girl
According to TMZ, "sources directly connected with the couple," have reported that Jenner is pregnant with a girl. Of course, with all of this reported information, it's important to understand that absolutely none of this has been confirmed by Jenner herself, or by the reported expectant father. So, until Jenner actually says anything, none of this can be validated.
But, it's still pretty interesting to note that Jenner is reportedly pregnant with a baby girl, seeing as how the Kardashian-Jenner family is practically an all-female army of beauty mavens and businesswomen. Maybe Jenner's future daughter will just be the next one to get in on the hustle?
She May Be Further Along Than Originally Thought
Considering that Jenner's Instagram has been pretty void of any recent pictures of the reality star in her typical form-fitting garments, it makes sense that she could actually be about five months pregnant, as TMZ has also reported.
TMZ also reported that "Travis has been privately telling friends about the pregnancy for nearly 2 months," which could explain how the information was leaked in the first place, since Jenner's sister, Kim, seems pretty peeved at all the reports circulating.
She's Probably Not Kim Kardashian's Surrogate, Y'all
Pretty much immediately after Jenner's pregnancy was announced, a theory was born pondering the possibility that Jenner is actually her older sister's surrogate. After all, the reported due dates do seem to line up suspiciously close — both in mid-January — but that seems to be all there is to it. However, as The Daily Beast pointed out, it would't be the strangest thing to happen:
A season premiere outing Kylie Jenner as Kim's surrogate would "break the internet." Yes, it sounds outlandish, even for a family that professionally monetizes their personal lives. But remember that Tyga left Blac Chyna for Kylie Jenner, and that Chyna in turn got impregnated by Kylie's brother.
Nevertheless, nothing has been confirmed, so these are just more rumors, really.
Kylie & Travis' Relationship Seems To Be Intensifying — Obviously
According to reports, Jenner and her new beau flew to Texas to see his family after they found out they were expecting. According to Hollywood Life, "that get-together would mark the first time Jenner has met Scott's family — not shocking, considering they've only been dating for around 5 months."
What's more, a source has also told Hollywood Life that the couple is reportedly planning to get married after the birth.
Kylie wants an amazing wedding and wants to be married as soon as she loses all of her baby weight. She wants her child to have a father that is always there and someone that will make their relationship forever. She has seen her family and her exes deal with heartache and broken homes and she wants to have the family life that is a success. So to be married is something she wants very soon and she will be very excited for Travis [to] put a ring on it.
Obviously, this is all (once again) mere speculation that hasn't been confirmed by either party, but it's still pretty interesting to ponder.
And of course, all of these rumors and speculation could very well be put to an end as soon as Sunday, when the newest season of KUWTK premieres. Until then, I don't know about you, but I'm just trying to keep up.
Watch Romper's new video series, Romper's Doula Diaries:
Check out the entire Romper's Doula Diaries series and other videos on Facebook and the Bustle app across Apple TV, Roku, and Amazon Fire TV.